Alternative High School Student Newsletter

The Betta Fish was chosen as our mascot along with the slogan "Join the School". The BETA fish not only shares the name of our school but also a number of characteristics in common with the students of BETA. Betta fish are unique and beautiful like the students at BETA. Betta fish are also known as "fighting fish". The students at BETA are fighting for their education. Betta fish, like other fish, travel in schools and require a nurturing environment to thrive, not unlike our students at BETA.
AHS Open House Held On October 18th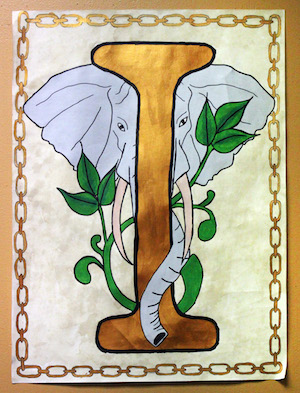 Student illumination projects, which feature initial letters decorated with ornamental designs, were on display at the Dutchess BOCES Alternative High School open house from 5 to 7:30 p.m.
While working on the projects, students learned about and incorporated all of the elements of art.  They also studied the history of parchment paper, and trade for gold leaf and materials such as spices that were originally used to make colored inks.  They painted coffee onto white paper to simulate parchment paper used by monks who were the original scribes.
Earliest samples of illuminated letters date between 400-600 AD.  Usually, it was the first letter of a page or paragraph and the letter was enlarged and in color with gold applied in some areas.  The remaining text was black. Some images used to enhance the letters included animals, plants, and mythological creatures.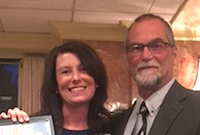 Dutchess BOCES Alternative HS teacher Lisah Babb wins the 2017 Award for Teaching Excellence, presented by the Mid-Hudson School Study Council.
Read More HERE
Celebrating Earth Day at the Alternative High School
The Green Team Environmental Club participated in Earth Day Activities including cleaning up the school grounds, setting up a table with information about how long it takes for trash to decompose, recycling guides, information about Earth Day events, how trash affects wildlife and upcycling.  Students and staff upcycled materials to make crafts that they displayed on the table during the lunch periods.
Alternative High School Field Day 2016

Click on the page below to read the June 2018 edition of The Innovator.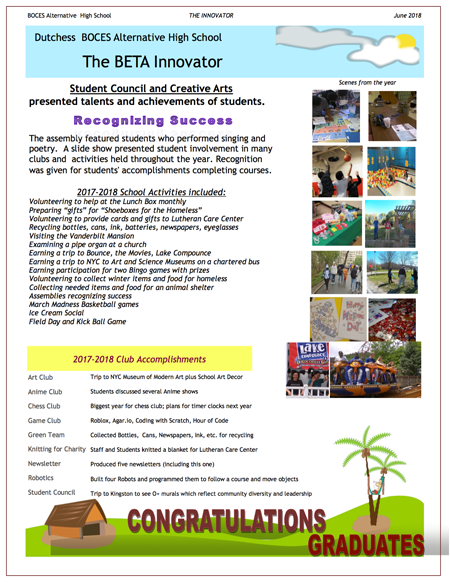 The Innovator June 2018 [PDF: Adobe Acrobat Reader format]
The Innovator March 2018 [PDF: Adobe Acrobat Reader format]
The Innovator June 2017 [PDF: Adobe Acrobat Reader format]
BETA Bayou February 2017 [PDF: Adobe Acrobat Reader format]
BETA Bayou December 2016 [PDF: Adobe Acrobat Reader format]
BETA Bayou November 2016 [PDF: Adobe Acrobat Reader Format]
BETA Bayou Halloween Edition 2016 [PDF: Adobe Acrobat Reader Format]
BETA Bayou Spring 2016 [PDF: Adobe Acrobat Reader Format]