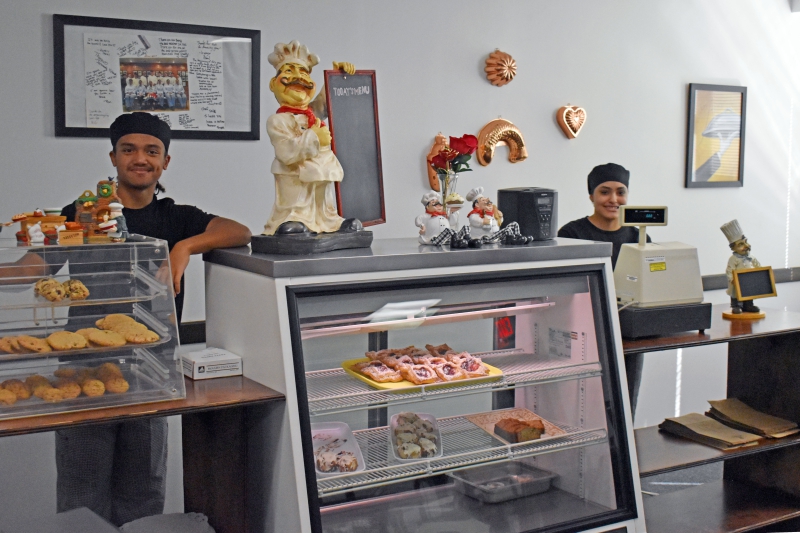 Life is what you "bake" it and students in the Culinary Arts program at the Career & Technical Institute are learning all the ins and outs of running a business with the recent soft launch of an in-school bakery,
The soft launch occurred earlier this month, in CTI's café, with students whipping up tasty and seasonal cookies, turnovers and olive focaccia. They were showcased in professional display cases to serve to BOCES staff.
"We're really excited to pull it off," Chef Instructor Darcy Sala said. "Our soft open was a success."
 
The bakery has no fixed hours due to students taking national exams and helping cater BOCES and offsite events. Staff are advised to check their emails for bakery hours and can contact CTI Office Manager Lisa Conger to be added to a mailing list.
"Keep your eye open for that email if you're on the list," the chef said. "We're going to try to make it very consistent, as much as possible."
Eventually, Sala and her young chefs want to serve dinners in the bakery twice a month and provide on the go catered meals like lasagna.
"Our goal is to run it like a real world bakery," Sala said. "Once they get to master that, then it goes on to adding an entrée."
Running a bakery is more than just making treats. Students need to provide excellent customer service, keep the dining room and kitchen spotless, inform Sala about what products she has to order from wholesalers and set menu prices.
"We cannot make a profit, so we sell for cost and that's part of their curriculum," Sala explained. "I teach old school."
Sala resurrected the bakery after a few years because the new students in both her and Chef Instructor Amanda Scoca's classes already demonstrate that they can handle any task in a professional manner.
"Their standards are high and they have no problem sticking with the high standards I'm giving them," Sala said. "It's an amazing bunch of students."
While first year student Morgan Johns was a little overwhelmed preparing for the bakery, she has so far enjoyed the experience, especially explaining to staff about the products she helped bake.
"I'm very excited to be in the kitchen," Johns said. "You'll get to know how you would be running a business if you were to do your own."
Johns would love to someday put her spin on cinnamon buns and chicken Alfredo on the bakery menu and praised Sala for being an encouraging instructor.
"Chef Sala is the best," Johns said. "She's what makes it fun and exciting."