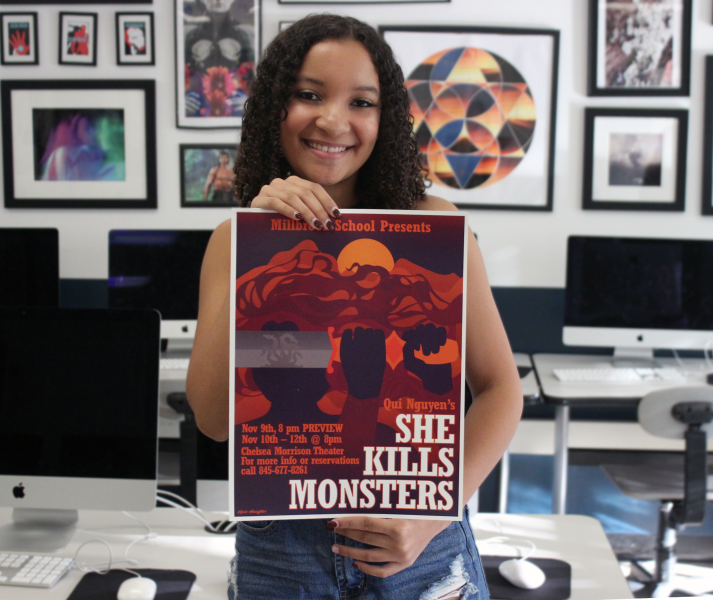 Karis Slaughter, a junior in the TV/Film Production program at the Career & Technical Institute, has a passion for graphic design, which paid off when her poster was chosen to promote a unique play at a local, private school. 
When the Millbrook School, which is not affiliated with the Millbrook Central School District, was to hold a production of Qui Nguyen's "She Kills Monsters, the school's theater director reached out to Millbrook High School and asked about running a poster design contest.
Slaughter's design which features a woman with long flowing hair using a sword to obscure her face won the contest.  She credits the contest for pulling her out of a creative slump. Teacher Jillian Barnes welcomed the opportunity to have her students' work in the community.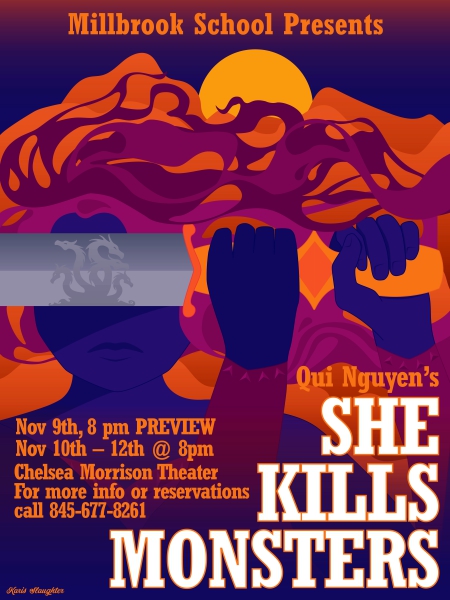 "I didn't do it much over the summer because I was super busy," Slaughter said. "When Mrs. Barnes came to me with this I went, 'This is a thing I can do; I have a clear goal.'"
Other than including information on the play, Slaughter had no restrictions on what the poster should look like and had fun doing it.
Slaughter was thrilled when her design was chosen. "I'm proud of myself for this that I was able to get it done and contribute something," Slaughter said. "Sometimes something that you think is just going to be a small thing that you do, can end up being really big."
Graphic design comes naturally to Slaughter, who started dabbling in it during middle school, and she is considering pursuing it on a small scale in the future.
"It's something that became an outlet for me," she explained. "This is just a medium that I really enjoy."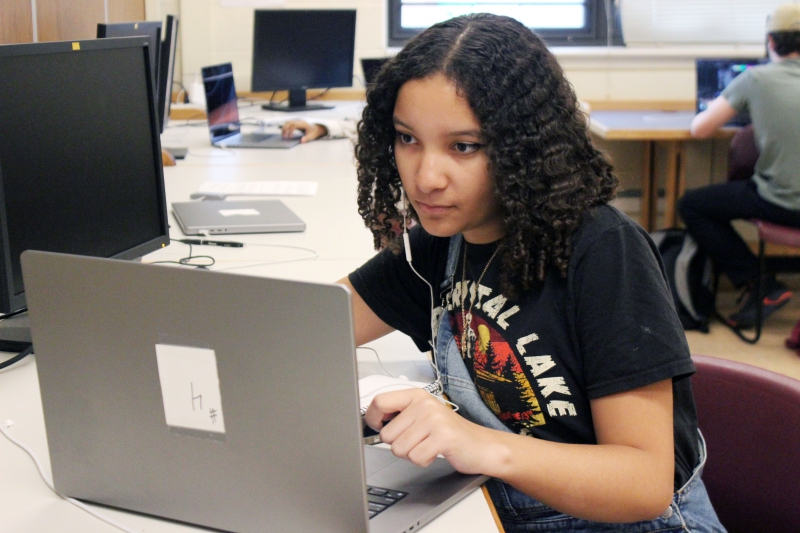 At BOCES, Slaughter loves being in Justin Brown's afternoon class where she and her classmates do everything from writing scripts to shooting short films. She most enjoys using Adobe Premiere to edit videos.
"I've already learned a lot," Slaughter said. "A teacher can make or break a class and Mr. Brown delivers."
Brown considers Slaughter one of his shining stars in class and was not all that surprised to learn she won the design contest, because she's talented in both graphic design and film production. He hopes Slaughter's win will encourage other students to try and showcase their work in the community.
"She has a little doodle pad that I've looked at in the past and I was pretty impressed with what she did," Brown said.
Published December 14, 2022