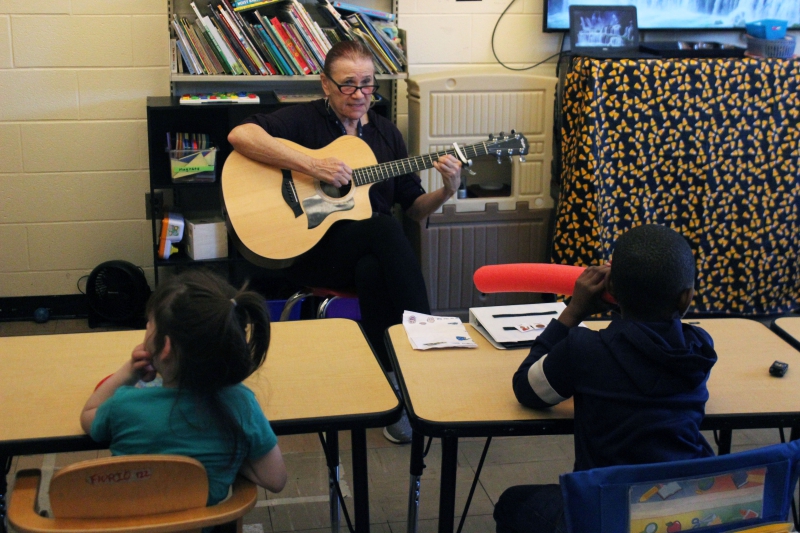 A new routine of jamming to music at the end of the day is helping students in Jessica Wegener's class develop crucial skills while creatively playing as a "band."
Joan Garcia, a one-to-one aide at the Salt Point Center, grabs her guitar and heads to room 128 near the end of the day.  There, she to plays familiar tunes like "Wheels on the Bus" which gets students, between kindergarten and second grade, excited.
Students play along by using pool noodles as drumsticks and plush blocks as a drum kit.  Others use their imaginations to play air fiddle and air harmonica.
Students like to be part of the band," Garcia said. "My student likes to bounce in the balloon chair to the live music."
Members of the crisis team and other staff join in the fun at times, including a recent afternoon to sing "Happy Birthday" in Spanish and English to Isabella."We are just getting started and hope to keep it going," Garcia said.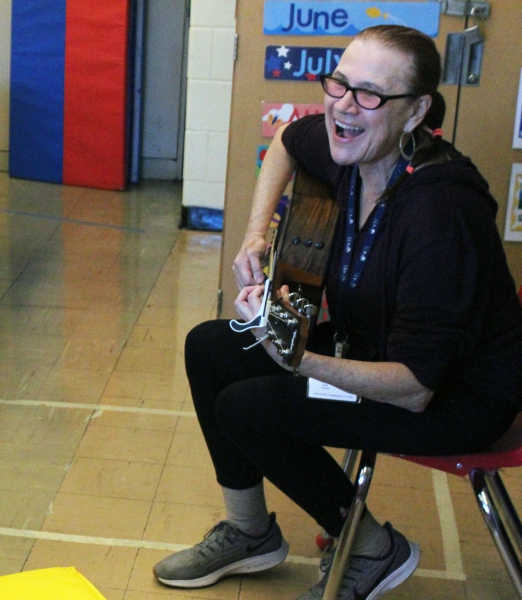 Garcia has written and sung custom songs about students and behavior for the class.  "Yummy, Yummy" was written to help encourage one student who wouldn't eat certain foods.  There is also a "Goodbye" song to celebrate the end of the school day and another tune about how to be safe on the bus.
"The crisis team wrote the words and I turned it into a simple tune," Garcia explained.
Students look forward to this time of the day, and Garcia credits Karen Hansen, a teacher assistant, for making it happen every day.
"Everyone agrees that music at the end of the day lifts all of our spirits," Garcia said.
Wegener finds that music offers many advantages for students, including keeping them engaged in a fun way, while they develop better language skills.
"Music stimulates the brain and has endless benefits," Wegener said. "It is just a positive experience for the kids each time."
published Nov. 7, 2022