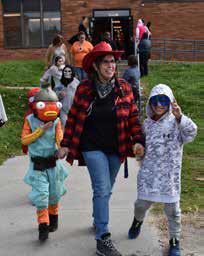 For young children, Halloween is a magical day and the Salt Point Center's celebration this year did not disappoint.  In fact, it also provided fulfilling, career-based experience for many of the young adults who attend the Career and Technical Institute.
Students from Security and Law, Early Childhood Education, Cosmetology, Career Explorations, Welding, and Construction Trades all contributed to the day's success.
"There are not enough words to adequately thank CTI for the assistance and support during our Halloween event," said Principal Melissa Murphy. "The day was unlike any other and it is one to be remembered.  It was nothing short of incredible." 
Leading up to the event, the construction students built the bean bag toss boards for SPC.  The welding students helped set up the stations the Friday before so the school was ready and waiting for the excited students on Halloween morning. 
The cosmetology, exploration, and early childhood students joined SPC staff to support the games and activities throughout the day.  Security students provided traffic control and ensured the safety of the students throughout the day.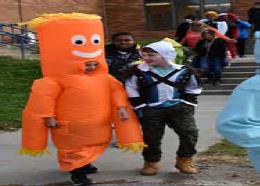 "The CTI students were amazing," said Murphy.  "They were energetic and engaged with each student, allowing them to feel successful and happy." 
Erin Scott, a former SPC teacher, now a career exploration and special education teacher at CTI, was glad to have the chance to support her former co-workers and to provide some learning opportunities for CTI students. "By sharing all of our resources we are able to make great opportunities for everyone involved," said Scott.
For Shawn Prater-Lee, the day was a great opportunity for his students to connect what they learn in the classroom to what happens in the elementary/middle school classrooms.  In his class, students learn about the autism spectrum and different learning implications, including that many with autism have profiles that include sensory needs. 
Creating a sensory or texture table, is one way to address these needs. "They get it on one level in class," said Prater-Lee.  "At SPC, they saw students on the autism spectrum interact and experience a great sensory/texture table."  For Halloween, the sensory items were filled with werewolf teeth (popcorn kernels) and goblin fingers (dried mango slices).
Murphy commended her staff and her CTI colleagues for ensuring an unforgettable day and also thanked CTI Principal Nick Millas for supporting the collaboration.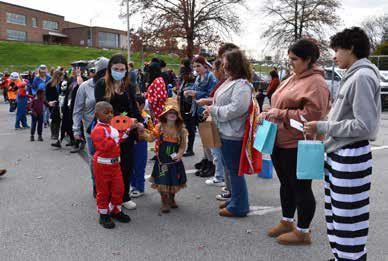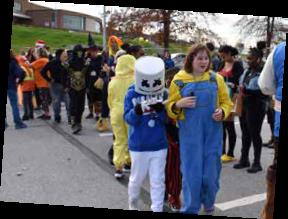 published; November 3, 2022