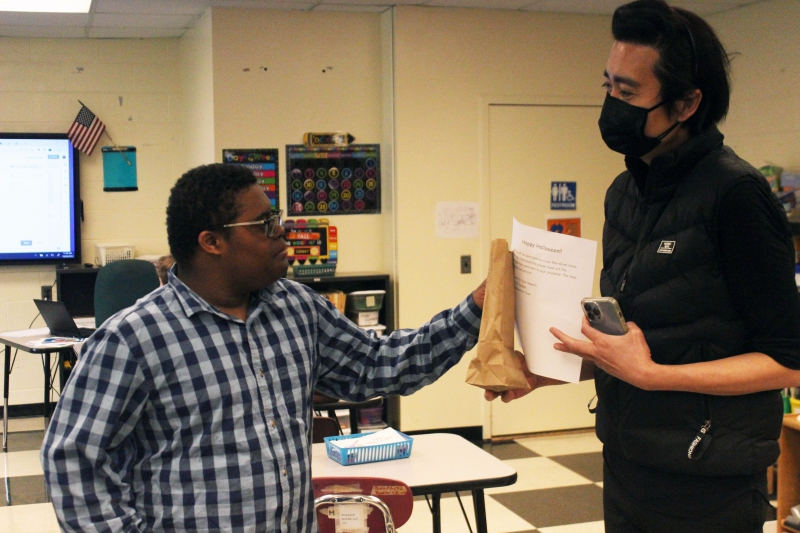 Students in the Pegasus and Career Exploration programs at Dutchess BOCES' Career & Technical Institute got into the Halloween spirit by selling close to 50 colorful cards known as "Boo Grams."
The students set up outside Room 398, between October 17 and 24, before morning and afternoon classes to sell Boo Grams. CTI students and staff purchased the $1 cards to send to someone on Halloween. Cards and sweet treats will be delivered on October 31. The money raised will support activities for the classes.
Pegasus provides services, such as academics and self-help skills, to students aged 14 to 21 years old who have multisensory or motor deficiencies and developmental lags in physical, cognitive and psychomotor capabilities. Career Exploration offers career-centric services, to 10th and 11th graders who were previously on track for an IEP diploma and those classified with disabilities who are pursuing a Regents or local diploma.
Pegasus and Career Exploration teachers wanted their students to work on a project together and everyone pitched in to beautify the cards. Pegasus instructor April Hart described it as an excellent chance for her students to learn money and communications skills.
"It's our first joint activity," Hart explained. "They're getting themselves known within the building and with the other students."
Students practiced their message with teachers before going out to sell the cards and Hart praised them for their professionalism.
"They're doing a wonderful job," Hart said. "They come out here for real experience."
Chloe, one of Hart's students, explained the process of creating Boo Grams, adding that they planned to staple candy to the back of each one purchased and then deliver them to each person scheduled to receive one.
"We write on the cards with a pen," Chloe said. "We're going to be the mailmen."
Similar types of cards are a possibility for other holidays like Christmas and Valentine's Day. Hart thanked everyone for their support.
"Even if they can't purchase one, they came up and listened to what our students have to say," Hart said.