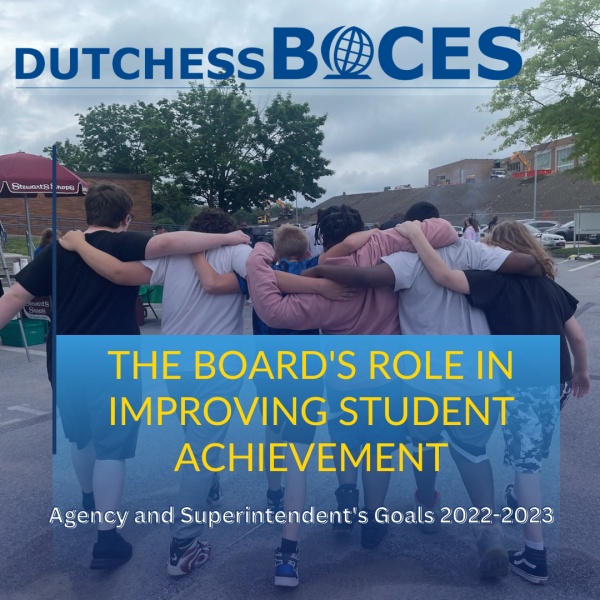 The Dutchess BOCES Board of Trustees approved the Agency's and Superintendent Jason Schetelick's 2022-23 goals at its October 12 meeting.  To learn the key actions and indicators of success associated with the goals, click the following link to view the document in its entirety: LINK
2033-23 Goals
Agency Goal 1: Create a positive school culture that is safe, welcoming, and respectful.
Superintendent Goal 1: Provide a safe, respectful, and welcoming learning environment that fosters a culture of belonging and dignity among staff, students, and community.
Agency Goal 2: Maximize yearly academic progress and workforce readiness for all students.
Superintendent Goal 2: Support the effective implementation of research-based pedagogical practices and career development/workforce readiness strategies across the Agency in order to maximize yearly academic achievement for all students. 
Agency Goal 3: Ensure effective and prompt communication with all stakeholders.
Superintendent Goal 3: The Superintendent will ensure effective and prompt informal and formal communication with and among all stakeholders.
Agency Goal 4: Nurture and encourage staff through recognition of achievement and hard work.
Superintendent Goal 4: The Superintendent will create systems that recognize and support staff at all levels.
Agency Goal 5: Develop and sustain robust community partnerships.
Superintendent Goal 5: The Superintendent will effectively represent BOCES on key community boards and committees.