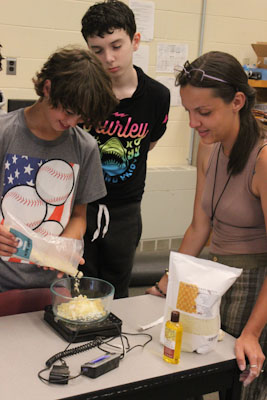 Dutchess BOCES' Career & Technical Institute's Middle School Summer CTI Experience returned this year during the week of July 25 following a hiatus due to the COVID-19 pandemic.
(above)Dylan Messina pours beeswax in a pot as part of an experiment in the Sustainable Practices course with Nicole Laino.
Dutchess County students entering 7th through 9th grades were able to attend free of charge thanks to funding from the Walbridge Foundation Grant. Courses were offered in nursing, construction trades, electrical trades, film and sustainable practices.
CTI Principal Nick Millas wanted to offer more students the opportunity to study in the program and interest was so high that there was a waiting list. In some cases, students who attend this program come back to CTI to take fall and spring courses.
"It's cool to see those familiar names of kids who it obviously made an impression on," the principal said.
The program is ideal for parents who want their children to produce something with their hands they can be proud of.
"Those are the types of memories that stay with you," Millas said. "This gives them a chance to get away from the screens."
Due to increased enrollment, CTI instructors had assistance from some of their junior students, who earned hours in either work-based learning or community service towards graduation.
"It also helps them be more vested when they come back for their senior year," Millas said.
Millas most enjoyed seeing students actively engaged in their classes and immediately bonding with other students from different districts.
"It takes weeks in a regular school year to build a classroom culture where students feel comfortable with one another," he explained. "This type of environment seems to accelerate that classroom culture building."
Soon to be 7th grader Dylan Messina, of Haviland Middle School, spent time in his sustainable practices class planting seeds and feeding chickens; first-hand activities he gravitates towards.
"I like to do a lot of hands-on things," Messina said.
Kiera D'Ippolito, who will be a freshman at Beacon High School in September, took nursing classes because she developed an interest in the field after taking care of her grandmother who has diabetes.
"I've always wanted to be a nurse and my grandmother is who started that," D'Ippolito said. "I always like helping her."
CTI Nursing instructor Tracy Larson shows students how to listen while using a stethoscope; while practicing on Kiera D'Ippolito.