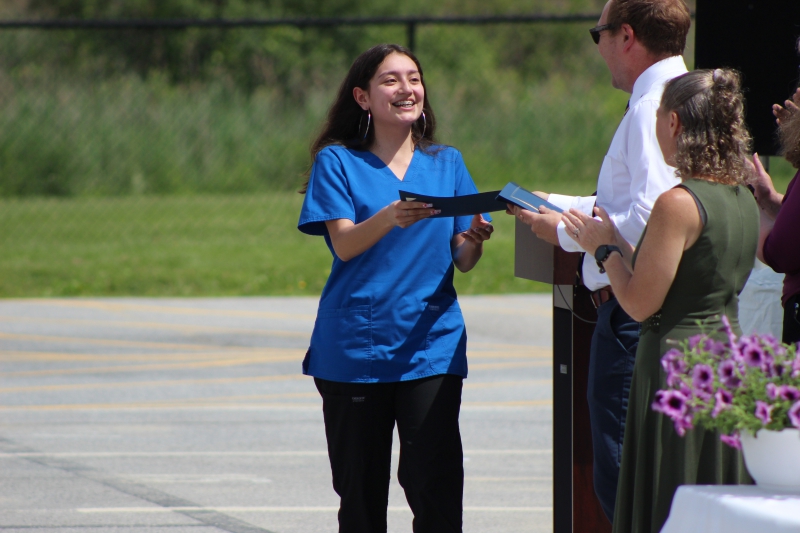 Nothing can stop the more than 200 seniors celebrated at the Dutchess BOCES' Career & Technical Institute annual recognition ceremony on June 11.
Family, friends and even former CTI Principal Mitchell Shron cheered on the graduates from various programs including Graphic Design and Early Childhood Education.
In his first year as CTI Principal, Nick Millas learned plenty, but one valuable lesson for him was seeing the vast opportunities CTI provides. When Millas did a tour with now Lieutenant Governor Antonio Delgado, he pointed to the small engine students repairing a pressure washer, welding students welding a firewood cart and automotive students changing his car's oil.
"I thought wow, this place is a living breathing community," Millas said. "I value our students and that they are able to do so much."
Valedictorian Teagan Nicholson, a cosmetology student, noted that while students came to CTI from different backgrounds, all are leaving with the same goal of being successful, especially after a difficult first year of remote learning. She added that she and her fellow graduates have a responsibility to use the skills they learned to leave a positive impact.
"The world requires a new generation who will effect positive change and go beyond the call of duty – we are a part of that generation," Nicholson said. "We arrived at CTI with dreams and aspirations; today we're leaving with even bigger ambitions."
Cosmetology student Hayleigh Sachs is ready for her next steps, which include working in a salon, while attending Dutchess Community College.
"I'm really excited for my future and excited to see where it goes," Sachs said.
The biggest lesson Sachs will take from her classes is learning by trial and error.
"It's OK to make mistakes and learn from them," Sachs said.
While Construction Trades student Jayden Arroyo plans to study biology at SUNY Plattsburgh, he said the skills he learned would benefit him for life.
"It's always a good backbone," he said
What Arroyo valued most during his time at CTI was working with others on projects.
"It will help me build connections," Arroyo explained. "That's what helped me the most."