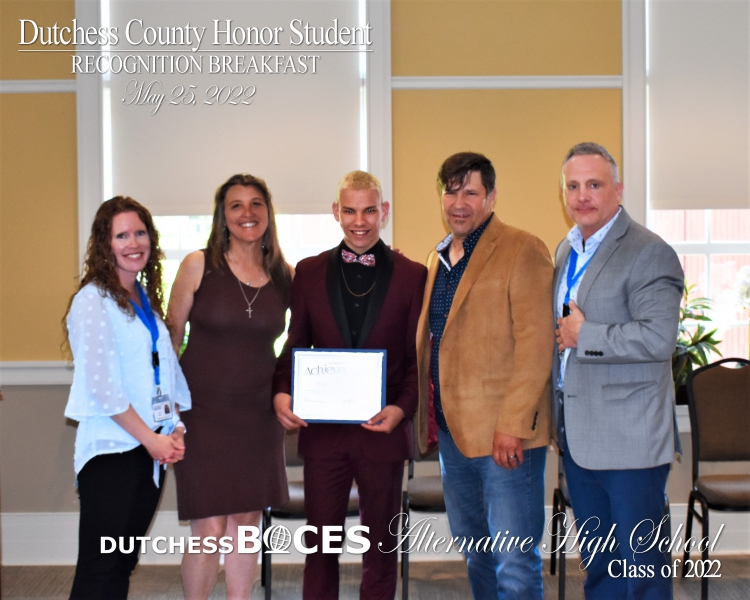 All Dutchess County school districts celebrated high school students on Wednesday at the Dutchess BOCES Honor Student Breakfast held at the Pavilion at Brookmeade in Rhinebeck, N.Y.  County Executive Marc Molinaro joined superintendents and board members to salute the students and wish them well.
Keynote speaker Jesse Jackson III, is a 2008 graduate of the Hyde Park Central School District and the Dutchess BOCES Career and Technical Institute (CTI). He later went on to graduate from Johnson and Wales University and The Culinary Institute of America (CIA).
Jackson offered some advice that most did not expect. 
"It's okay to quit," Jackson said after describing how a former chef/owner demeaned him, telling him he knew hundreds of pastry chefs who were than better him.  "I stayed professional, packed up my tools, my recipes, and quit.  I left Nantucket and moved to Boston and within two weeks I had a better job making more money."
Being brave enough to take the risk and quit a prestigious position, allowed him to pivot, move on and achieve so much more.
"If you don't have a seat at the table," Jackson said. "Pivot and build your own table."
Jackson also shared challenges he faced as he excelled first as a Certified Pastry Chef, independent business owner and now a Certified Master Chef who is a lecturing instructor of baking and pastry at the CIA. 
At the age of 32, he is the youngest full-time instructor at all CIA campuses.  It is his dream job that he finds remarkably satisfying because he sees the results of his teaching at the end of each term.  Watching students who struggle at first acquire skills is inspiring.
Jackson encouraged the students to evaluate and to define what success means to them.  Hardships will be encountered, he said, but to focus, to work hard, and to keep moving will get the students where they want to be.
Dutchess BOCES District Superintendent Jason Schetelick thanked all the districts for attending, noting that it was nice to see everyone smiling together celebrating students with their families after canceling the annual event for two years due to COVID.
Schetelick also thanked those who helped make the day a success including the String Quintet from John Jay High School and the Poughkeepsie High School Air Force JROTC Color Guard.
He also thanked BOCES Chef Instructor Darcy Sala, who brought culinary students to work the event.  Sala was Jackson's teacher when he attended BOCES and she proudly applauded and hugged him after his speech.  Students in CTI's Plant and Animal Science program made gorgeous centerpieces for the tables. The program book, a keepsake, includes impressive profiles of the honorees.