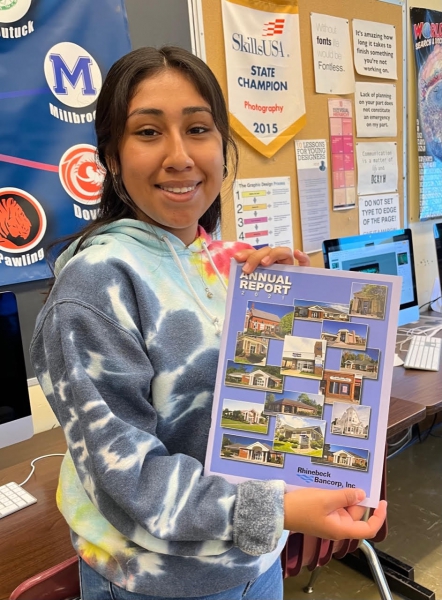 Rosa Celaya-Luis, a graphic design student at Dutchess BOCES' Career and Technical Institute, is ending her high school career on a high note after completing a three-month internship with Rhinebeck Bank where she helped with a crucial project.
Celaya-Luis, whose home district is Poughkeepsie City School District, previously helped design Dutchess BOCES' 2021 holiday card. At Rhinebeck Bank she was tasked with designing the cover of the bank's annual report. It had to have the diversity of its community locations, the services it provides and its successful year reflected in the design with color photographs of locations across Dutchess, Orange and Ulster counties.
Rhinebeck Bank Chief Marketing & Public Affairs Officer Tim Massie trusted that Celaya-Luis would get the job done because of her enthusiasm and ability to collaborate with the marketing team on everything from the placement of the photos to the color.
"It reinforced that we are a true community bank," Massie said of the design. "That's the message we wanted to convey and Rosa did a great job accomplishing that."
The task was intimidating at first for Luis-Celaya because she never worked on a project like this before. She redid the design up to six times, collaborating with her colleagues and asking for their feedback, a skill emphasized in graphic design instructor Steve Lawson's class. "I had to redo it and redo it," Celaya-Luis explained. "I just played around with the tools and the pictures."
Lawson knew Celaya-Luis was qualified for the internship and credited her for being independent, as well as being able to learn how to use new software and tools effortlessly.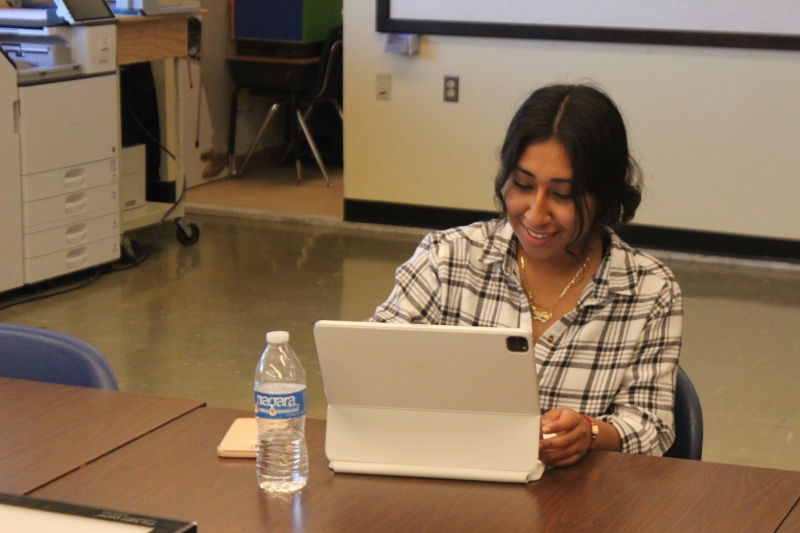 Celaya-Lewis_in_class: Rosa Celaya-Luis working in Graphic Design Instructor Steve Lawson's class at Dutchess BOCES.
"There were things she had to take on herself and be responsible for and she did it without any problems," Lawson said. "She has the right mindset where she's going to try to figure it out and make it work."
The diversity found at PHS also helped Celaya-Luis. "I've learned to engage with everyone whom I'm set to work with and always include them and their feedback in projects," she said.
A big takeaway from the internship for Celaya-Luis was the power of patience.
"I usually do a bunch of things at once and I'm really impatient and I try to get things done ASAP," Celaya-Luis said. "I learned a lot."
Celaya-Luis will attend SUNY Cobleskill to study graphic design and has no particular dream job in mind, but plans to take a business course in case she decides to start her own company.
"I just go with the flow and see where it takes me," she said.
Massie would welcome Celaya-Luis back to work at Rhinebeck Bank with no hesitation and is happy to see a fellow PHS graduate succeed.
"Excellent graphic artists are not easy to find," Massie said. "If there was an opening, she would have a leg up on the competition."