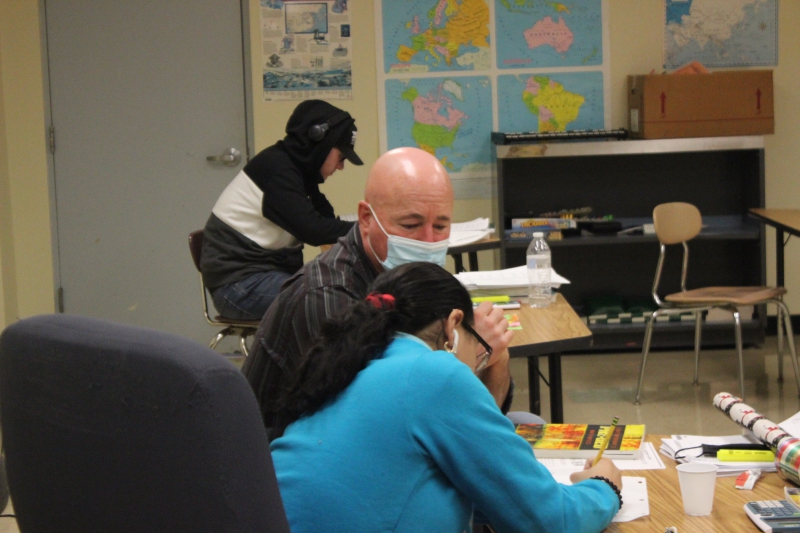 The High School Equivalency program (HSE) at the Alternative High School offers students an opportunity to prepare for the NYS exam and receive their equivalency credentials. The fully accredited program covers Reading, Writing, Math, Science, and Social Studies, the five academic areas students must be proficient in to complete the test.
"I have learned more in this class than in all my school years combined," explained Justin Chick, an Arlington student currently in the program, whose goal is to pass the exam before he turns eighteen.
Students take a pre-test each month to identify and target specific academic areas. Many students find that passing the math component of the exam is challenging.  By linking what students are learning to real life, teacher Richard Petschko helps them overcome this hurdle and achieve success.
"COVID disrupted learning for students causing them to fall behind, but through our unique program they receive one-on-one attention and have the opportunity to catch up," said Petschko.
Savannah Koochaigian, another Arlington student in the program, is planning to take the exam in the spring. She credits the program with boosting her confidence.
"I want to go to college and possibly study nursing once I have passed the equivalency test," she said.
Students enrolled in the Dutchess BOCES program have an outstanding 75 percent first-time pass rate compared to the 50 percent statewide rate. Students who are unsuccessful on their first attempt on the exam can prepare and only need to retake the portion(s) not passed after 60 days.
In New York, the TASC exam will be replaced by a new General Educational Development (GED) exam in January.  In the current class, one student took the TASC exam in December and is awaiting results. Several other students will be ready for the revamped GED test in the new year.