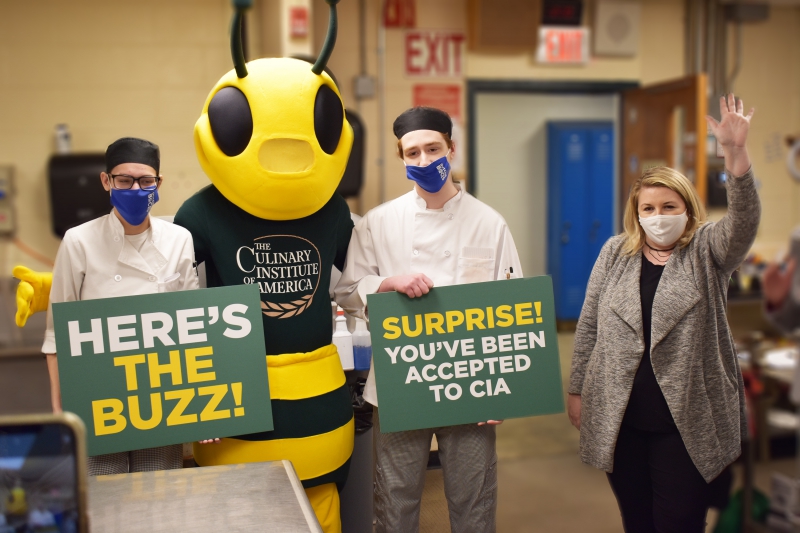 An odd visitor stopped into Dutchess BOCES' Career and Technical Institute recently. Sting – not the lead singer for The Police, the Culinary Institute of America's honeybee mascot - surprised two students in the Culinary Arts Program Nov. 29 to celebrate their acceptance.
CIA admission directors and Sting, visited Chef Instructor Darcy Sala's afternoon class to congratulate students Maison Migliore and Ashley Kayse-Hughes, both seniors, who posed for pictures with Sting and received a swag bag.
Migliore's boss, a CIA graduate, recommended him for admission.  Migliore, who works at The Roundhouse, an upscale restaurant in Beacon, was excited to hear the news.  He had not yet received an acceptance letter.
"It feels good," Migliore said. "I'm sure my parents will be happy."
Migliore will study restaurant management since he desires to own a restaurant someday. Growing up, Migliore loved cooking shows and often helped his mother out in the kitchen.
"I just grew a love for it," he explained. "I've always wanted to own a restaurant."
Both Migliore and Kayce-Hughes gave Sala and CTI's culinary program high marks.
"It gives us a taste of what we're going to experience in college and in the real world," Kayce-Hughes said.
For Kayce-Hughes, who will study baking and pastry arts, cooking helps relieve stress and she is most happy to cook for others. Her adoptive parents instilled a love of food in her by teaching her to cook.
"My favorite part of cooking is giving food to people and seeing their faces light up," she said, adding she wants to own a bakery in the future.
While slightly embarrassed by the surprise visit in class, Kayce-Hughes had a different reaction when she received her acceptance letter in August.
"I did not expect to bawl into tears halfway through the first line of the letter," Kayce Hughes said. "It's the only school I applied to."
The CIA looks for well-rounded applicants who have a passion for food and are academically ready for college level work. CTI students easily fit the criteria, CIA Admissions Director Michelle Mullooly said.
"We find those students here at Dutchess BOCES," Mullooly said.
The more experience a student has in the food world, the better equipped they are, which CTI's curriculum certainly helps with, Mullooly said.
"We know the caliber of the education they're receiving," she said. "We see them come to us very well prepared."