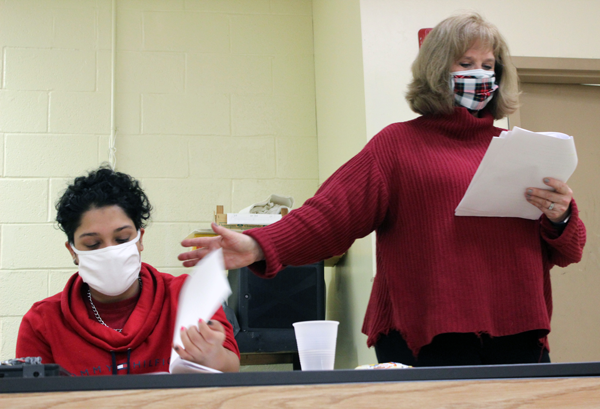 The show must go on. It is a well-known saying and staff at Dutchess BOCES Alternative High School have found yet another way to get things done despite restrictions related to COVID-19.
Typically, students complete an in-person performance at the end of the school year.  To provide the opportunity to perform, Dance and Theater instructor, Kathy Muenz, and Teaching Assistant, Phil Parquet directed students through a recording of the 1943 Lucille Fletcher radio drama "Sorry, Wrong Number."
Leroy Manrique, Jodee Spence and Joseph Urbanowicz played their parts with support from Muenz and Parquet when needed. The two instructors also added their voices to the performance.  Sound effects were incorporated to help make the recording more authentic.
Muenz, a seasoned performer who starred on Broadway in "La Cage Aux Follies" and "Camelot," still wanted her students to put on a cumulating performance at the end of school, but the COVID-19 pandemic prompted the teacher think of the alternative.
The idea to do a radio drama came from Muenz, whose husband performed with Garrison Keillor, of the public radio program "A Prairie Home Companion." The drama can reach the masses at home without people having to congregate in a theater.
"They know they will have an audience. It gives them something to work toward," she said. "They might not be standing and interacting with each other the same way, but they'll sit and read, and it's a valid thing."
Muenz and the students listened to many radio dramas to become familiar with them and to help narrow down which one they would perform. Many of the students were unfamiliar with the concept of a radio drama.
"We listened to a few to see what they were like," Muenz said. "It's not in our common vernacular."
Many of the students have emotions, but often do not know how to channel them and projects like this help with that, Muenz said. Adding the emotions had to be even stronger for the drama since there are no visuals.
"It's trying to impress upon them how your voice has to make all the emotion," she said. "I think they like it."
The arts are a vital part of a student's education and Muenz hopes her students can find meaning from music, theater and dance.
"It really is something that can kind of save you throughout your life," the teacher said. "It's a lifelong joy that you're helping to cultivate."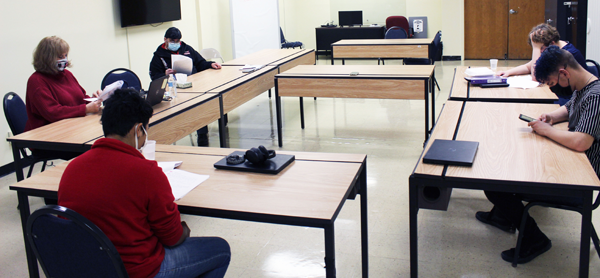 Students and staff rehearse lines for a radio play at the Alternative High School while socially distanced