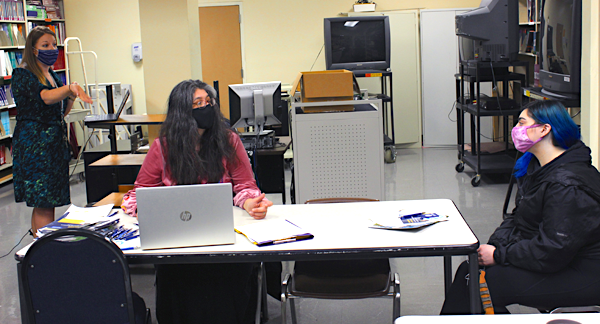 Eight BOCES Alternative High School students are on their way to freshman year at Dutchess Community College (DCC) next fall after being accepted on the spot during annual Decision Day.
Students attended either in-person or virtual sessions with DCC Admissions Counselor Michelle Diano who explained everything from receiving financial aid to the workload college brings.
"It's really cool to see their faces light up when they hear that they got accepted," BOCES School Counselor Courteney Heller said.
When Heller worked at Arlington High School, DCC admissions representatives came to register students and answer questions about college. When Heller started at BOCES three years ago, she wanted to duplicate the event at BETA.
"I thought that was just such a really cool event to get students excited about the college admissions process and also to see themselves beyond high school as learners," she said. "It just made sense."
Heller praised Diano for explaining to some students what it means to be in college with an Individualized Educational Plan and how to connect to the appropriate services.
"Anything that might come up, she takes the time to go over it with them," Heller said of Diano. "She's so accessible."
The students are engaged in the process by asking thoughtful questions and advocating for themselves, Heller said.
Senior Ariel Malpica is excited to get a different learning perspective and is interested in potentially studying art, science, welding and working with animals.
"I have a lot to look at and choose from," Malpica said.
Malpica learned about all of the accommodative services available to help her succeed in college, putting her mind at ease.
"That really opened another eye of mine to see what I can get help with," she said. "This will help me out a lot."
Junior Faith Mollica is interested in attending Dutchess because her late mother encouraged her to pursue higher education.
"She really wanted me to go to college," Mollica said. "I'm doing it for her and to get somewhere in life."
The event helped make the college experience less intimidating for Mollica, who is undecided about what she might major in.
"It's a little exciting, but also scary," she said.