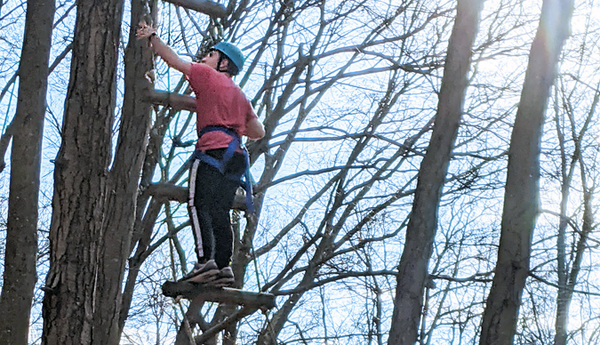 A new program offered through Dutchess BOCES aims to help high school students with social-emotional needs gain the skills they need to return to their home school district through a hands-on approach to learning which is set in the outdoors.
The Ramapo Program, held at Ramapo for Children in Rhinebeck, launched in September with five students and now has six. It is an 8:1:2 program that runs from 8 a.m. to 2 p.m. each day.
"These children typically do better with experiential learning so it is project-based," Denise Dzikowski, Director of Special Education for Dutchess BOCES said. "They are outside a lot working on construction projects."
The program incorporates STEM activities and social-emotional learning throughout the projects.
For example, the first project the students worked on was to build a coat rack for the classroom.
They had to measure, look at the space, learn how to use power and hand tools all while observing proper safety procedures, Dzikowski said.
From a social-emotional perspective, the project helped students develop a sense of ownership. "They learned team-building, bonding and how to build relationships," she said, adding that students "look at the coat rack every time they walk in."
BOCES teacher Stephen Blair leads the classroom and has two BOCES teacher aides in the classroom and a half-time social worker. Prior to this, Blair was an ELA teacher at BOCES' Alternative High School, having been with BOCES for 11 years.
The educational team works with the students to help them develop community-building skills and adaptive strategies, while a Ramapo program director and staff work with the students on outdoor activities.
"The focus is on math, ELA and social-emotional skills," Blair said. One project that required all three skills was building a wigwam.
Creating the wigwam not only meets the basic needs of shelter, heat and food (they cook over a fire pit inside), but it also carries over to social-emotional needs.
"The Ramapo framework addresses trauma, so the social-emotional connection is the collaboration it takes to build it - communication, focus, teamwork and relationship elements such as connecting with people in appropriate ways," Blair said.
First and foremost, the goal of the program is getting them to come to school every day, he said.
"That has definitely been accomplished with the students who have been here consistently since September. They want to be here every day."
Aaron Ryan, a junior, at Taconic Hills High School, agrees.
"What I like is the peaceful community and that we can be outside more. We get to build, relax with people and get to know each other," Ryan said.
From the wigwam project alone, Ryan said he has learned how to plan and set up a wigwam, how to tie the knots needed to keep it standing, and how to measure circumference.
While many of the activities take place outdoors in all four seasons, traditional academics are included, though the work is based on each individual's abilities.
"We read every day after lunch," Blair said.
Science is taught in several ways. Students create a weather report by reading weather instruments at the site, consulting websites and examining the lunar cycles. They also are taught how to identify trees, rocks and minerals on the property.
Math is centered on geometry and the wigwam (circumference, area) and making mini models of the wigwam. They are also taught orienteering and map skills and some pre-algebra.
It is all Regents-based skills and based on their IEP, Blair said.
Most of the students need one-on-one help to do academic tasks, so Blair, the TAs (Janet Feimer and Karen Hansen) and the therapist (Rob Lacolla) - who happens to be a former math teacher - work with them, he said.
This winter, the students participated in a cultural lesson, learning about Hanukkah by making potato latkes (pancakes) in the classroom and then cooking them in a cast iron skillet over a fire. The students had to know what type of fire to create, a cooking fire or a heating fire, he said.
Districts can access the program by indicating the need for an 8:1:2 program on a child's IEP and paying the appropriate fees.