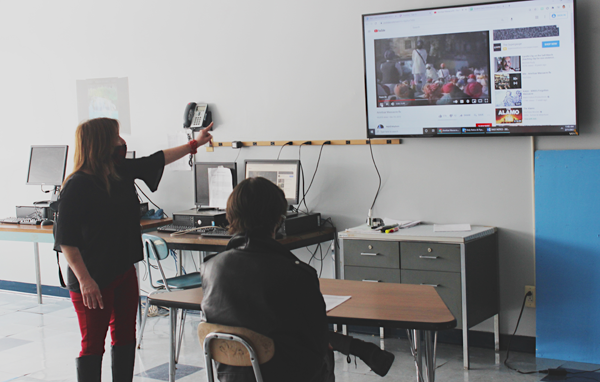 In her government and global studies classes, BOCES Alternative High School teacher Sheri Tompkins finds students have opinions as wide as the Hudson River.  She encourages students to share all points of view with the caveat that everyone must remain respectful.
"We have to respect each other's opinions," Tompkins said. "Even if you have very different views, we can come together and compromise."
In her class, students are not afraid to share how they feel about everything from former President Donald Trump to gun control.  Recently, in Tompkins' second period government class two students, one virtual and one in-person, were working on two unique assignments.
In the classroom, senior Ezra Seggrra was working on an assignment regarding gun control policy. He says he is opposed to gun control because he has observed that gun crime occurs even in countries with strict gun laws.
Gun laws should not have a negative effect on people who go to a shooting range as a hobby, Seggrra said.
Over Google Classroom, senior Ariel Malpica wrote a report card judging President Trump's policies during his first term.  She said she enjoyed the assignment because it allowed her to express her view.
"I really enjoyed writing about how the policies that he made were helping some people, but also at the same time taking away from others," Malpica said. "It's crazy and hectic."
One of Malpica's previous assignments included writing a children's book about the late Supreme Court Justice Ruth Bader Ginsburg following her death in September. Malpica admired Ginsburg for her courage in standing up for women's rights.
"She never really gave up trying for women," she said. "There aren't that many woman influencers these days."
During Global Studies class, Tompkins and her students have tied together historical events such as India's independence from the United Kingdom to protests held throughout the United States in 2020 following the death of George Floyd.
In the three months since he has been in class, a 10th grade student has found that all plans proposed by politicians are not entirely original ideas. The student listed socialist policies being touted by some members of Congress as an example of this.
"It seems like history repeats itself," the student said. "One way or another, someone's going to take ideas from another government or take ideas from another world leader and put it into their own version."
People, whether they lean conservative or liberal, find politics important because each side views their political party as superior to the other, he said. He added that acceptance from all sides is needed to bridge the divide.
"That's the tug of war with the two-party system.  It is that one party wants power," he said.
Tenth-grader Ethan Martinez is not a huge fan of either President Joe Biden or former President Trump, but he feels the former is the superior politician and hopes he makes good decisions.
"I feel like he speaks to the public better," Martinez said of Biden.
In recent years, Tompkins finds her students more informed and interested in politics, as well as participating in events that bring awareness to LGBTQ and climate change matters.
"They would like to see positive changes in the future," Tompkins said. "I feel the students I have today are the most passionate any of my students have ever been about politics."