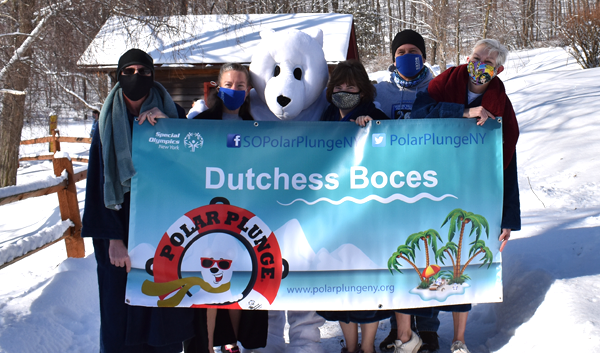 A small group of Dutchess BOCES staff took a dip in the freezing cold waters at Sharpe Reservation in Fishkill on Saturday morning during the annual Polar Plunge, raising money for the Special Olympics.
Despite the COVID-19 pandemic, a steady stream of divers representing various organizations took turns jumping in the water and posing with the event's Polar Bear mascot. As a reward for their efforts, participants received a sweatshirt with the phrase "I Survived Polar Plunge 2021" printed on it.
The BOCES team, led by Career and Technical Institute Teacher Erin Scott and Salt Point Center Teacher Tracey Smith, raised $5,418 in online donations making them the seventh top team in the event.
Scott and Smith were joined by CTI instructors Catherine Kelly and Thomas Skean, the latter being a first time participant. SPC teacher Jessica DiBartolo also volunteered by taking temperatures at the front gate, Scott said.
"It's great – I have my co-workers with me, my administrators came up," Scott said. "Special Olympics is an amazing organization that is extremely special to me."
Scott has coached Special Olympic athletes since 1996 and started participating in the Polar Plunge in memory of Stephen Sturgis, an avid swimmer, who died in 2006.
"I worked with him as an athlete and in his group home," she said. "Swimming was his favorite event."
Two plunges stand out in Scott's mind – one was when it was so cold that a couch was made out of ice cubes and the other when she lost a shoe in the cold water.
"My shoe fell off in the water and I had to run up," Scott said.
CTI Principal Mitchell Shron has participated in the Polar Plunge since 2009, but this year stepped aside to cheer on his colleagues.
"I'm just here to applaud my group along and hold onto to towels if they need it," Shron said. "I figured I did my jumps and now I'm done."
Particpating in the Polar Plunge brings together people who would not normally do something like this for a good cause, creating a sense of camaraderie, Shron said.
"That's really a wonderful feeling," he said. "Getting a bunch of people together to jump into ice cold is fun, period."
Shron's favorite plunge was in 2011 when temperatures were cold beyond belief and participants were barely able to cope, but there was an upside.
"That's good because adversity makes people remember something," Shron said. "Everyone moved very quickly."
Typically the Polar Plunge is a massive event with people dressed in costumes and parades, but the event had to be scaled back this year. Shron is hopeful the larger festivities can resume next year.
"It's sad that we can't do the full effect this year, but it's great that they were able to pull something together," he said.