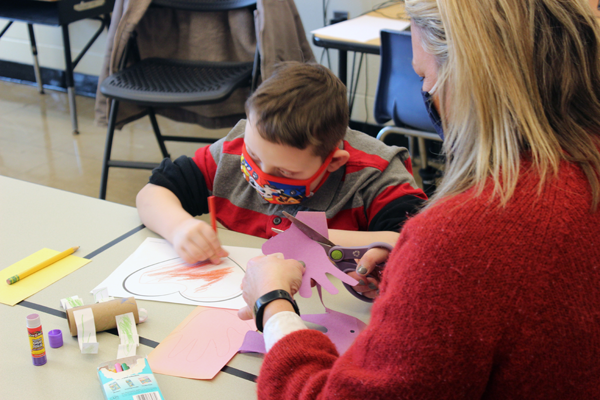 Valentine's Day was Sunday, but it didn't stop students and staff across the BOCES Salt Point Campus from completing cute projects early and offering tips on how to make the day extra special for that special person.
Last week the Salt Point Center hallways and entrance were decorated with hearts ushering in the day of love. Lily Andrews was ready to deliver her special braille Valentines to show her love to her teachers.
Teaching Assistant Kelsey Butkiewicz helped her students with coloring hearts and tracing their hands on paper, so they could put their hands on their hearts.
Christine Ciccone's class had a completely different vision.  They made a collaborative poster all about love that made everyone was proud.
Ciccone's students worked with four other classes of students and staff, both in-person and virtually, and everyone was given a square with writing prompts asking about what they love and they then colored them in, Ciccone said.
"Once all the squares were completed, they make a poster that says 'All You Need Is Love,'" Ciccone said.
The students and staff showed love for numerous items including chicken nuggets, the color gold, family and friends and books "sometimes."  During Ciccone's Friday morning class, she and Teaching Assistant Mellanie Webb held up the computer screen for her one virtual student to see the mural surrounded by smaller purple and pink hearts.
People often wonder what would be the best thing to get for their sweetheart and Career and Technical Institute Chef Instructor Dan Tierney suggested cooking a nice meal and getting a gift they truly want.
"My wife loves flowers, just go with whatever you sweetheart wants," Tierney said.
Tierney planned to make a surf and turf dinner with scallops or crab cakes and take a nice walk with his wife. Simple dishes anyone can make for their partner are meatballs, spaghetti with Bolognese sauce and Caesar salad.
"Everybody loves meatballs," the chef said. "They may not be the world's best meatballs but the fact that you made them for someone else is very meaningful."
Food is a way to show love for someone and it can become a bonding activity for couples, Tierney said.
"When I'm cooking at home, my wife's there too – we're setting the table, we're doing it together," he said. "That's time together usually."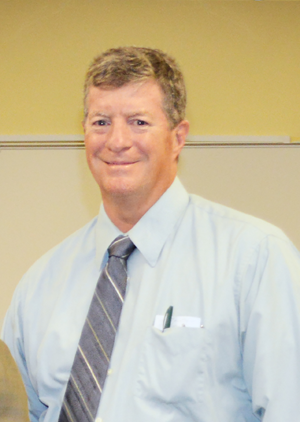 Career and Technical Institute Chef Instructor Dan Tierney