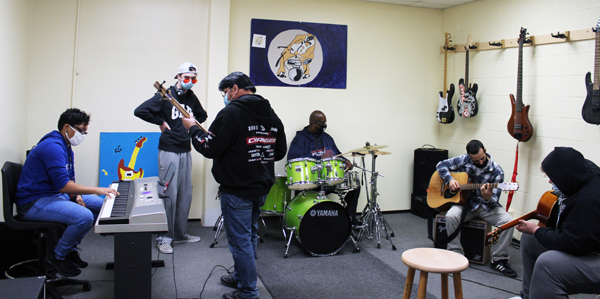 The halls of BOCES' Alternative High School were once again filled with the sound of music coming from a band of staff and students practicing together after quite some time apart.
The musicians got together into the Music Room on the first floor of BETA to practice two songs – The Williams Brothers' uplifting "Still Here" and The Temptations classic "My Girl."
Teaching Assistant for Crisis Intervention, Maurice Hollis, sang lead vocals on "Still Here" which featured lyrics such as "I've seen my share of troubles, but I'm still here," a fitting message for what is going on in the world due to COVID-19 and violence.
Teaching assistants Kenneth Hallett and Vincent Giandalone played the drums and guitar respectively and fellow teaching assistant Phil Parquet assisted students who needed help playing their instruments. Students Dustin Harding, Leroy Manrique and Tristan Levesque played guitar, keyboard and bass respectively.
Coordinator of Alternative Education, Duane Sharrock, best known for his signature morning announcements, leant his golden voice to belt out "My Girl," which got everyone singing along.
At first, the band played the songs note for note, but Hollis later encouraged students and staff to improvise.
"Let's have some fun," Hollis said to the band.
The main goal of the activity is to build up the students' confidence, Hollis said.
"It spills over into other areas," he said. "We've seen some miracles happen."
Music practice started up again now that the cohorts have merged and students are in attendance on a more frequent schedule. Hollis hopes that he and the band will do a performance by the end of the month on Google Classroom for the whole school to hear. Throughout the years, Hollis and the staff have put on 15 creative arts shows. It is not simply a hobby; some staff members are part of a band called The Underground.
"We want to get some smiles and energy around here," Hollis said.  "We've been in the music room for about 19 years."