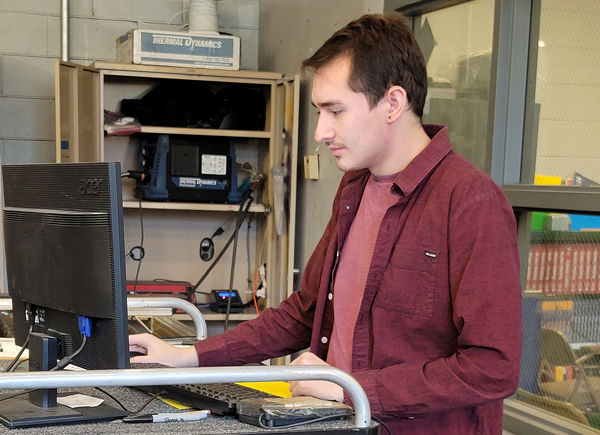 It took Roy C. Ketcham High School/CTI graduate Christopher Lesniak less than a month to find a job after completing the welding program - and he found it locally, at GlobalFoundries Fab 10 plant in East Fishkill.
GlobalFoundries, a semiconductor manufacturer, was seeking to replace a welder who was retiring after 39 years with someone who had welding and machining experience.
The machine shop at the East Fishkill fabrication plant supports all of GlobalFoundries' northeast operations, Site Operations Manager John Paulus said.
Paulus interviewed a number of people for the job, most of whom were 22-32 years old and had welding experience, but Chris stood out.
"Chris had a welding certification through you and very good experience through his internship," Paulus said. "He jumped right in and we put him right to work."
Chris does plastic fabrication, sheet metal fabrication, milling, lathing, welding, CNC machining and cutting.
"At CTI I learned CNC cutting, welding and sheet metal. When you work with materials, you understand how it will react and how to manipulate it, so it makes it easier to learn different methods of doing things," Lesniak said.
"I think it (CTI) changed my life completely. I went from not knowing what I wanted to do and no future in my head to what I've done today," he said, adding that he was drawn to BOCES after taking metal shop in high school.
The welding program at CTI teaches students the hard skills of welding in various forms, but also the soft skills - communication, resume writing, how to work as part of a team, speak to your supervisor and work with your own business, teacher Ralph Roberto said.
Roberto has 47 years of welding experience, learning the trade by taking night classes at a BOCES in Valhalla.
Roberto said his students learn the skills in class and then put them to use through work-based learning experience, repairing dumpsters brought to CTI by a local company.
"When I first met Chris he was focused and he had a goal," Roberto said. "His favorite was TIG (Tungsten Inert Gas) welding. I showed him many techniques and he took it and ran and he became an expert."
For the past three months, Lesniak has worked with a machinist for part of each day to train on the lathe and milling machine work, Paulus said, adding that they also have him working with an engineer to work through prototypes and build on his solid work.
"It amazed us," he said.
Lesniak works with a team of seven other machinists, one of whom is a welder.
"All of the other six came to me and said we'll work with Chris to take him to the next level but they wanted something in exchange … they wanted him to teach them how to weld," Paulus said. "He came in with the right skill set, attitude and aptitude."
Eric Grandmaison, talent acquisition specialist at Fab 10, said that typically they hire only one or two high school graduates, but that "the program is poised to grow based on our positive experience with CTI thus far."
He said the plant always has openings because GlobalFoundries likes to promote from within. Managers will often tailor training programs, as Paulus is doing with Lesniak, to help employees grow into new jobs. Plus, there's tuition assistance of up to $5,250 per year.
Both Paulus and Grandmaison said they are interested in working with CTI and Dutchess BOCES to help develop machinists.
"We want to hire someone a year before our next person retires/leaves because we have a shadowing program where they (the new hire) will stay with that person to effect a transfer of knowledge."
Grandmaison had this advice for CTI students: "I recommend that students put their specific class work, internships and what they did on those internships on their resume."
Lesniak said he would like to stay at GlobalFoundries and advance.
That's something Paulus wants, too.
"I asked him what his dream job was and he said he wanted to work in a machine shop. I told him I can make that dream come true," Paulus said, adding, "I believe he will be a toolmaker within four years."
Above: Chris Lesniak programs the Computerized Numerical Control (CNC) welder at CTI during a visit with his teacher Nov. 10, 2020.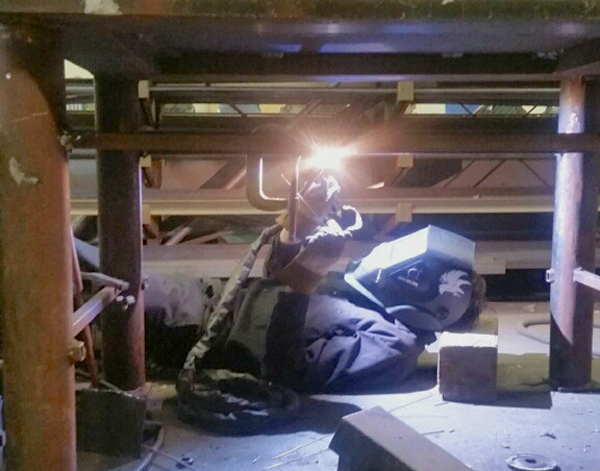 Chris Lesniak works with CTI Teacher Ralph Roberto on the CNC welder to create a gusset to repair a wood chipper.