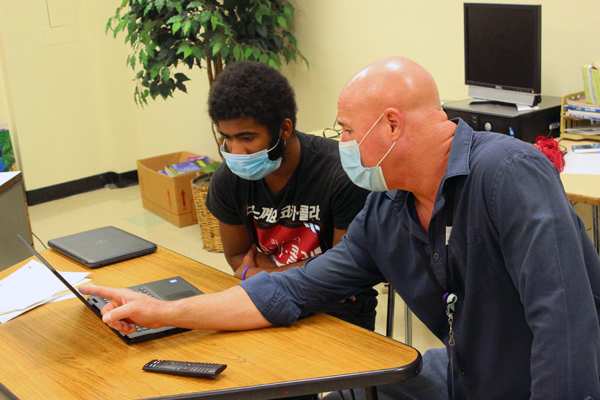 BOCES Special Education Teacher Richard Petschko is preparing his students not only for their upcoming High School Equivalency exams, but also for life after BOCES.
The teacher at the Alternative High School teaches the science, social studies, math and writing portions of the test. Students take three pre-tests before going to take the real exam, Petschko said, adding he currently has 13 students in his class.
"We work on the skills that they need or what they may need," Petschko said. "We prepare the kids."
Some students take only three months to prepare for the test, while others may take up to two years, but Petschko and his teaching assistant Ken Hallett educate their students all the same – with enthusiasm and motivation.
"We motivate these kids; we talk about life," Petschko said.
Petschko loves teaching math best, a subject that 90 percent of his students struggle in, because he can relate the concepts taught to real-life situations, such as opening a checking account, he said.
"In today's world you need credit, you need a checking account," he said. "We try to teach them real world experiences – that keeps them motivated when they see the realness in what they're learning."
The onset of the COVID-19 pandemic hampered the students' enthusiasm early on due to having to learn to use the Google Classroom platform, which staff also struggled with initially, Petschko said. Everyone has since caught on to the platform.
"Everything is accessible now to the kids," he said.
Petschko remains proud of his students' accomplishments, including those of James Strothers, who took the High School Equivalency test on November 10 and was prepared for it.
"I'm feeling good, I feel like I'm ready," Strothers said before taking the exam.
Strothers finds the coursework much easier when Petschko relates the material to real-life situations.
"The way he breaks it down is just easier to remember," Strothers said.
At this point, Strothers has passed science, social studies, and reading.  He awaits the writing score, which takes longer because it is graded in Albany, said Petschko.
For his post school plans, Strothers eventually would like to return to BETA to work as a crisis counselor.