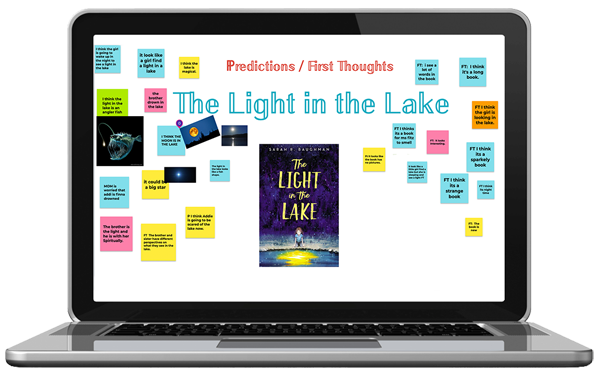 As teachers at Dutchess BOCES adjust to the "new normal" during the ongoing COVID-19 pandemic, Salt Point Center special education teacher Kourtney FitzMaurice has found a way to bring her class of in-person and remote students together with a fun activity.
FitzMaurice, who teaches sixth, seventh and eighth graders, looked for ways to make her class feel as one rather than two separate classes.  She started using Jamboard, an interactive whiteboard system developed by Google, to enable more class participation. She trained on this Google app during the summer.
"I had used it as a virtual dry erase board for math," FitzMaurice said. "As we are split into two cohorts, but would like to do some portions as a whole class, we have implemented the use of Jamboard."
When the students were first given the book "Light in the Lake" by Sarah R. Baughman they were asked to make predictions of what it was about based solely off the cover and prologue and then added their notes to the Jamboard, FitzMaurice said.
"This has an unlimited potential for every academic area," she said.
The students enjoyed the guessing game because they thrive best in situations where they all work simultaneously and receive more immediate feedback, FitzMaurice said.
"They were all active and engaged," she said. "It was a wonderful lesson that allowed us to be a whole group during such a fractured time."
Student contributions appear on the Jamboard in the form of electronic post-it notes and every sees all of their classmates' comments.
FitzMaurice's class participates in the Big Read, a National Endowment for the Arts initiative aiming to inspire conversation and discovery through community-wide reading programs, according to the NEA website. Since FitzMaurice's students are younger, they participate in the initiative's "Little Read."
"As we are all getting used to the 'new normal' in school, it is about pulling the split classes together as a community," FitzMaurice said. "If this goes on longer, for sure it would be a great tool to bring the building together on a building wide project."