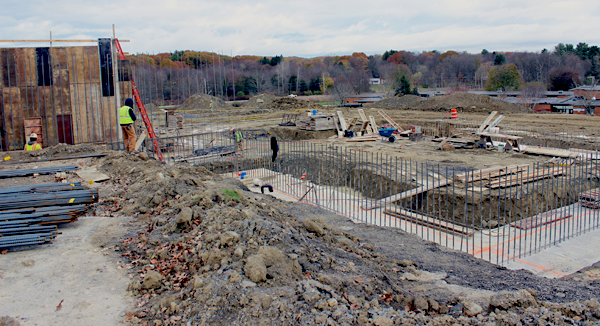 The first phase of the $36.8 million Dutchess BOCES capital improvement project at the Salt Point campus continues to progress and will continue into the winter months.
Site work began in June and the project's official groundbreaking was held on July 1.
Despite the chill in the air on November 3, construction workers donning hard hats and masks carried boards for a new building that will house a gymnasium and additional classrooms. Others checked measurements and still others used hammers to knock steel pieces into place on the building.
We are hoping the weather continues to stay cooperative and allows us to keep moving forward," said Matt Metzger, School Business Official. "With the pouring of the foundation over the last few weeks, the footprint of the building is becoming much more visible. It's very exciting."
The team from Upstate Electric has been busy installing the underground electrical infrastructure that will provide power to the expansion.
Workers have also hollowed out a large portion of the ground to make room for extensive drainage, which includes below ground concrete barriers and piping. Fencing and yellow tape surround the deep ditches. Boards of plywood serve as bridges so workers can cross the numerous trenches.
Project Superintendent Bill Brokosch from The Palombo Group, the construction manager, said that the crew will keep working and they do not plan to stop the project during the winter months.
"We will work through the winter," Brokosch said. "It's moving right along."
Other elements of the project include a courtyard, a drainage pool and the construction of a new parking lot adjacent to Peach Road, Brokosch said.  The project will increase total parking on the campus by 205 spaces. 
"We're setting up this courtyard, that's where these drainage lines are," Brokosch said. "The new parking will be able to accommodate more vehicles. It's still going to be accessed through the main entrance of BOCES."
A large conference center, with a capacity of 170 people seated at tables, will be located directly up the drive as visitors enter the campus. Smaller conference rooms, social space, and a maker space are also included.
Renovations to the Salt Point Center include more classroom spaces, upgrades to bathrooms, and the installation of a secure vestibule.
When the project is completed, the Salt Point Center, Alternative High School, and Career and Technical Institute will all be located on one campus.