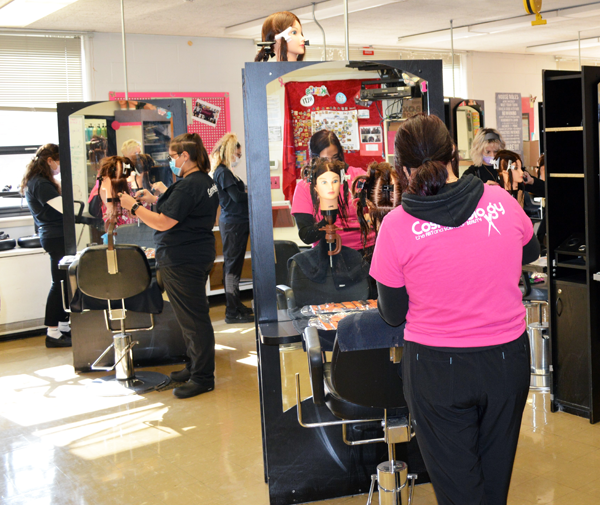 Cosmetology is a hands-on experience, so when COVID-19 hit, altering schedules and taking students out of the classroom, Career and Technical Institute instructors Sharon Myers and Melissa Lennon had to figure out what this year was going to look like.
They moved to a digital textbook and study format, so that students can work on their own on the theory aspect of the program. The three hours students are in-person during their two days at CTI, there are no lectures, just hands-on time with mannequins.
Each student has their own mannequin and there is no sharing, they said.
"We always practice universal precautions," Lennon said, adding that with every procedure there is an element of infection control.
"The licensing for cosmetology is based on infection control," Myers said, so the program has always taught those standards. "We understand the risk in touching someone so we treat everyone and ourselves as if they or we may have something."
To further protect against sickness, the class was broken into two groups so that when students are in class, it isn't as crowded and, of course, everyone is wearing masks.
The masks may be the most difficult change.
"It's hard to communicate with a mask and it is very limiting because this is a very visual field and with a mask we're a little limited … and your glasses fog up," Lennon said.
And, in salons, Myers said, staff has to wear goggles or a face shield in addition to the mask.
For Myers, another element that changed is her hands-on guidance.
"The hard part is for us to not touch their mannequin to teach. Previously, we would hold their hand to help," she said, adding that now she doesn't do that.
Lennon, however, does.
"I've always been a bit of a germophobe, so I use sanitizer. I do touch their mannequins, but if I'm working with a student I remind them to wash their hands right after," she said.
More of the time, however, it is students watching the instructors do something and then having the instructor watch them do it and guide them verbally.
The changes benefit the juniors in the program as they're already starting hands-on work with mannequins, something that didn't happen until sometime between the fifth and tenth week previously.
However, students are getting three hours per week in-person now vs. the 12.5 hours they would have gotten during a normal schedule. And, they are not able to practice on people.
"There's a big difference between working with a mannequin and working with a client," Myers said.
And, many of the seniors are facing challenges because they often spend time in a salon during their last year to get real world experience. But, with salons limited as to how many people can be inside, they're not as willing or comfortable letting students in, Myers said.
Students who graduated last year are also facing challenges because the state hasn't held the licensing exams, Lennon said.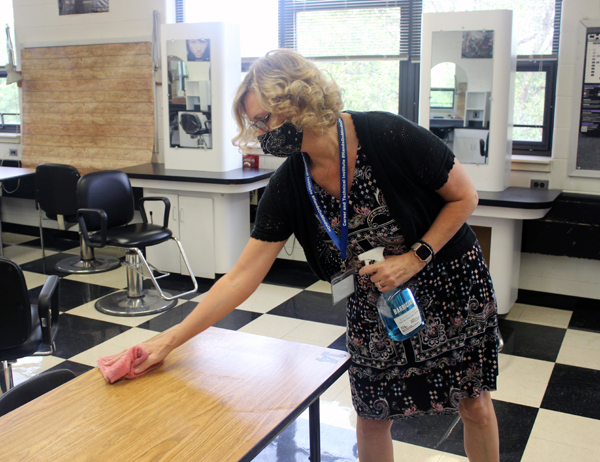 Cosmetology instructor Melissa Lennon sanitizes a table in preparation for the arrival of students.

Given the shorter in-person sessions, instructors Sharon Myers and Melissa Lemon moved to a digital book format this year to maximize the time students had in-class to do the hands-on work using their own mannequins.