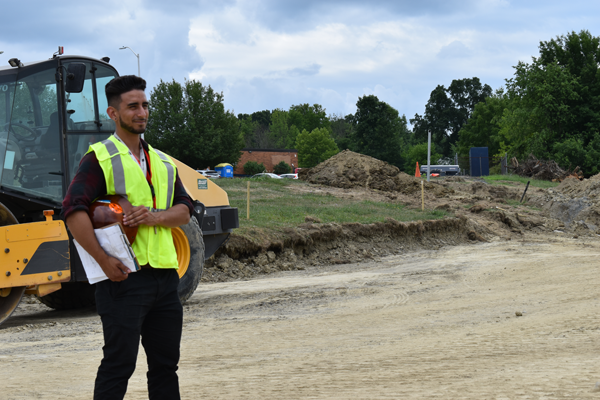 Five years ago, Michael Mendoza graduated from the Dutchess BOCES Careeer and Technical Institute's Construction Trades program and now he's overseeing the construction of a new Alternative High School and renovations of the existing CTI building at Dutchess BOCES' main campus.
The project manager/superintendent for The Palombo Group, says his education played a key role in making it possible.
Before seeing the BOCES catalog of programs, Mendoza - a Roy C. Ketcham High School alum, had planned on becoming an electrician. But, when he read about the Construction Trades program it changed his mind. "I felt my skill sets lent themselves better to a variety of jobs, so I chose that," he said.
In addition to the hard skills, CTI taught Mendoza how to work in and with teams.
"The biggest benefit of CTI was the teamwork-based exercises to complete tasks and learn new skills," he said. "BOCES is the only place that gets you hands-on experience that translates into real-world abilities."
A project manager works with all the trades on a given project. Mendoza said those CTI experiences directly helped him prepare for this role.
"When you have a construction project in class, you started out working alone, then you moved on to a group project, like building a house. I had to come up with long-term plans, decide who was going to be on different teams, how to arrange them and link them for the best outcome. It's about knowing how to communicate and organize people," he said.
After CTI, Mendoza attended Dutchess Community College's engineering program, graduated and then went to work for Arben Group in Westchester as a project manager. His first job there was overseeing the structural sealing and repair work on the steel for the Walkway Over the Hudson. He moved to the Palombo Group in June 2019.
His advice to students interested in a similar career:
"Utilize all your resources to their fullest. Identify your passions and put 110 percent into those, where you put hard work is always rewarded," he said.
One example of taking advantage of your resources is learning as much as you can from your teachers. He spoke about the impact CTI instructor Joe Pesce had on him.
"I felt like I understood the work we were exposed to, but I wanted to take it to the next step, I wanted to know what to do to go above and beyond and he allowed me exposure to that," Mendoza said.
"I had my own personal project and was able to work with him and with the electrical instructor to design and build an LED light panel for my guitar shows. He understood individual students' needs and that is what made it beneficial."
For Mendoza, the work on the BOCES project is not just professional, but personal.
"I feel like everyone is given a set of opportunities to start with and everyone is responsible for making the world a better place and giving back. I pride myself on improving the lives of others and being on this project to expand CTI allows me to directly do that,"  Mendoza said.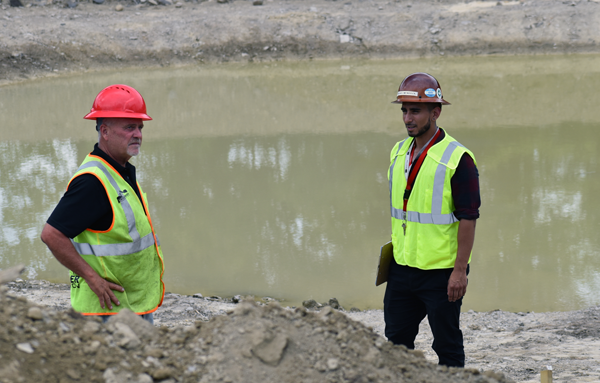 Project Manager Michael Mendoza, right, discusses site work with Casa Builders Project Supervisor Will Farrell, also a CTI graduate.