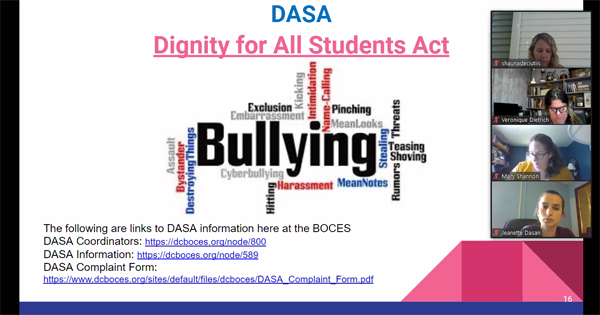 New and existing staff learn about the importance of the Dignity for All Students Act.
The BOCES Office of Human Resources officially welcomed around 16 new employees to the organization during a virtual orientation via Zoom on Wednesday. It had the feeling of previous years, but with the addition of some requirements due to COVID-19.
The new employees, who started after Sep. 1, 2019, included teachers, administrators and clerks. They learned about working for the organization while becoming acquainted with each other, BOCES Executive Director for Human Resources Norah Merritt said. Additionally, it dovetailed with the new teacher orientation held this past Monday and Tuesday.
"We do a refresher on things that are critical tips and tricks for all employees," she said. "Essentially it is a time when we can get this cohort together to team up and introduce one another."
Merritt conducted interviews with the employees over the phone, so Wednesday served as an opportunity to have face-to-face interactions.
"It was a nice way to put names and faces together," Merritt said.
Merritt was joined by BOCES Superintendent Dr. Richard Hooley, Deputy Superintendent Cora Stempel, Adult Education Administrator Elizabeth Hayter and Career and Technical Institute Principal Mitchell Shron, among others.
New expectations for staff due to COVID-19 include having teachers provide their students with a Google Classroom platform and all staff using Google Docs to access slides shown during orientation, Merritt said. Many of the incoming teachers are already familiar with Zoom and online coursework.
"Once they do it once or twice it's usually pretty seamless, but certainly we'll be there to support them," Merritt said of the staff.
All staff need to be like-minded about school safety, maintaining good hygiene, wearing masks and answering the daily COVID-19 questionnaire, Merritt said.
"There are certainly some nuances about entering this school year that's significantly different than previous school years," she said. "I don't think that it's impossible, I think it's quite possible."
Despite the changes, Merritt wanted to assure new staff were welcomed the same way as in previous years.
"We want to have that same sort of experience introducing them to agency," she said.
Merritt praised her staff for their willingness to learn how to use new technology and go through the experience of a virtual orientation with the new recruits, Merritt said. 
"My team is small but mighty," she said. "I'm very, very proud of them and the work that they're doing."
Salt Point Center Nurse Darice Wilson, who's worked at BOCES since January, found the orientation informative and liked how information presented in Zoom could be uploaded to review at another time, she said.
"Of course, I would've loved to be in person, however, this was a reasonable alternative," Wilson said.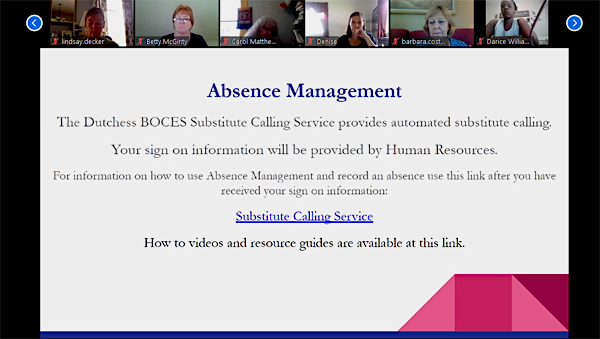 New and existing staff view a slide about managing absences during BOCES' orientation for new employees.