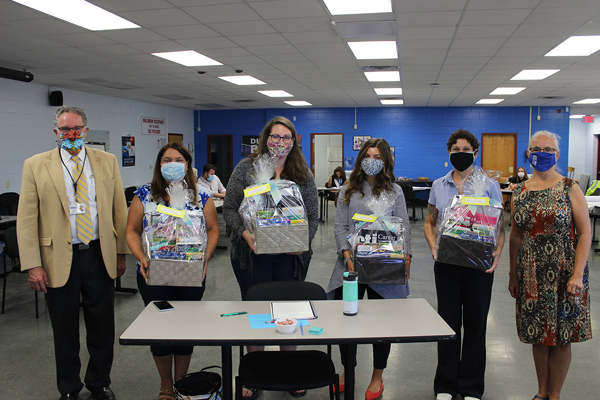 The annual orientation for new BOCES teachers began Monday at the Career and Technical Institute featuring a few differences – a smaller group of new hires and only one day of in-person sessions.
Only five new teachers will attend the orientation consisting of one in-person session Monday and virtual sessions for the following two days, BOCES Deputy Superintendent Cora Stempel said.
"It's very unusual," she said of the small number of incoming teachers.
These changes are due to the COVID-19 pandemic, but also because of the ongoing construction project at the Salt Point campus, Stempel said, adding teachers will have a chance to meet with the principals and mentors of the schools they will be working at Tuesday and Wednesday.
"We have made that shift and it is pretty significant," Stempel said. "Most of the content is similar to previous years."
Stempel, District Superintendent Dr. Richard Hooley and other staff and board members will welcome new teachers and help them get accustomed to the special BOCES environment, Stempel said. Additionally, some teachers will learn what it means to have a significant number of students with disabilities in class and how to provide academics to students in CTI courses.
"We also spend some time on expectations of what instructional practice looks like," she said. "It's also just to help people be prepared."
Deanna Pillius, who will be the CTI counselor, picked BOCES because she fell in love with the idea of working with students in a career technical setting while earning her master's degree. Additionally, she workeed at a heating, ventilation and air conditioning and plumbing company for six years.
"I was able to tie together my love of counseling and my background in a trade," Pillius said.
The highlight of orientation involves second-year teachers speaking to new teachers about their experience, and telling them not to get discouraged during tough times and also telling them who to go to for support, Stempel said.
"We affectionately refer to it as the 'Survivor's Panel,'" she said. "It's really fun."
To feel even more welcome, new teachers are given a welcome basket made by the school principals, a tradition started two years ago, Stempel said.
Pillius loved the basket filled with school supplies.
"I can't believe how generous they were with everything," she said.
Schooling in a remote setting will help students be flexible and adapt to changes, Pillius said.
"That's so important because here at school we're going to have a lot of stop and go," she said.
Other courses include "Creating a Positive Classroom Environment" and "Collaboration and Community Building." Plus, they were all informed about, and practiced, completing the Daily COVID Questionnaire before entering the building.
The new teachers will then join the entire staff for the Superintendent's Conference Day in September.