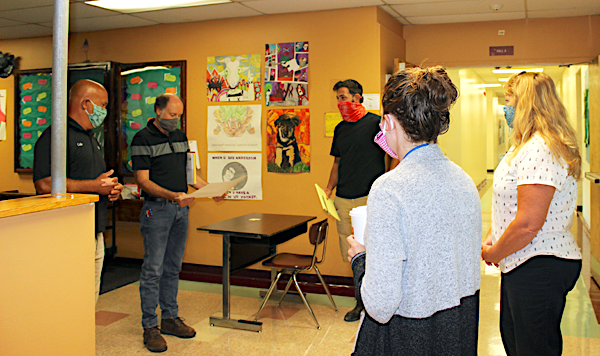 On August 20, a mechanical engineer hired by Dutchess BOCES began a review of ventilation systems at the Alternative High School (AHS) in preparation of school reopening.
Rick Muenkel, a consulting Eegineer from Barile, Gallagher & Associates, is reviewing the exchange of outside air, filtration systems, and the way air moves throughout the building to be sure spaces are safe for staff and students.
Cole Bender, Director of Facilities and Operations, and Gregg Caruso, Maintenance Mechanic, provided Muenkel with a map of the school.  They met with Erin Piquet, Principal AHS, and Denise Dzikowski, Director of Special Education, to talk about how the rooms are used. 
The group toured the building, beginning with the mechanical closet to check systems and filters and then continued through each office and classroom in the building to analyze airflow.
"Part of our plan to keep students and staff safe is to have a clear understanding on the indoor air quality of all spaces and to have a clear understanding on how to maximize fresh air exchange," said Bender.
A similar review was conducted at the Salt Point Center on Thursday August 13.