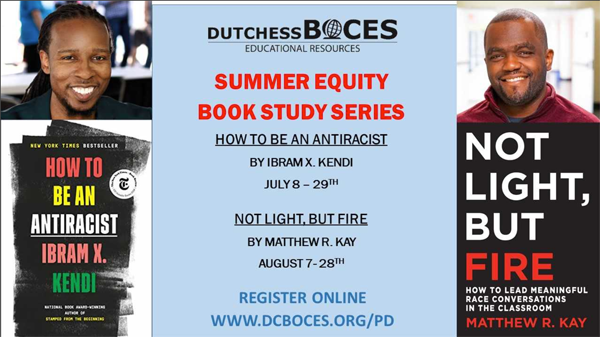 The Dutchess BOCES Summer Equity Book Study Series kicked off July 8 with a three-week course dedicated to the New York Times bestseller "How to Be An Antiracist," by Ibram X. Kendi  It runs until July 29.
Dutchess BOCES has been in discussion for the past eight months on establishing a Center for Equity and Excellence. The search for potential partners, including colleges and universities, has begun.  Once those partners are defined, BOCES will look to develop supports for districts in systems change, leadership, curriculum development, instructional practices, and student conferences.
While the center is in development, Dutchess BOCES is still identifying ways to support productive conversations on equity and race.  For the past two years, BOCES and teachers from throughout the county worked with Jevon Hunter, the Woods-Beals Endowed Chair in Urban Education at Buffalo State University, to help students find and become involved in social justice. Students then presented their efforts at an energized youth conference.
This summer, the Summer Equity Book Study Series will feature Kendi's work as well as "Not Light, But Fire," by Matthew R. Kay.  "We decided to start with Kendi's text to be a grounding and opportunity to build a common language around racism and anti-racism," BOCES Director of Educational Resources Jenny Schinella said. "We felt it was a good starting point to arm series participants with that language."
The book guides readers to think about what an antiracist society might look like and how they can participate in building it.  Kendi's book and Matthew R. Kay's "Not Light, But Fire" were chosen because they can help start conversations about race in the classroom and the county, Schinella said.
In "Not Light, But Fire," Kay explores how high school classrooms are some of the best places to have productive conversations about race. A course on this book runs from August 7-28.
Schinella and the Educational Resources department wanted to create a series for educators to come together and feel more confident in having meaningful conversations about race as their students are experiencing all of the social justice movements in their communities while they are removed from their school settings.  "We didn't want to let the summer go by without options for teachers," Schinella said.
Schinella hopes to be able to get feedback from component districts as the Center is formed so that BOCES can identify the priority areas of focus for the Center inclusive and beyond conversation on race.
Conversations about race can be difficult, but Schinella is happy to see BOCES supports the series.  "To know you're in an agency that is willing to support those conversations is exciting," Schinella said.
Anyone interested in participating in the series can register online at www.dcboces.org/pd.