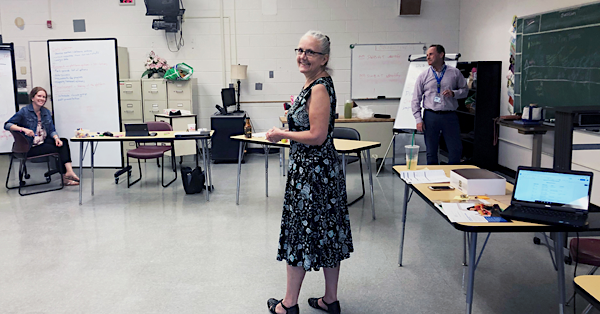 While Dutchess BOCES staff are working on re-entry/re-opening plans for our schools, they've also been on the front lines of state planning.
Superintendent Dr. Richard Hooley, Executive Director for Human Resources Norah Merritt, Director of Educational Resources Jenny Schinella, Director of Special Education Denise Dzikowski and Coordinator of Technology Mark Stein all participated in the Board of Regent's Region 3 Reopening Task Force meetings which involved more than 300 educational professionals from 24 counties including Ulster, Dutchess, Orange, Putnam, Rockland and Westchester.
Participants were divided into nine groups:
·           Health and safety
·           Teaching and learning
·           Social-emotional needs
·           Special education
·           Bilingual education and multilingual learners/bilingual learners
·           Digital equity and access
·           Budget and fiscal
·           Transportation, facilities and nutrition
·           Staffing/human resources
"The state did an absolutely wonderful job organizing such a massive undertaking," Merritt said. "It was an honor to be a part of a think tank and generate ideas."
Hooley and Merritt worked on health and safety with Hooley serving as facilitator while Merritt served as notetaker during the June 22 session.
"The work was really high-quality and I expect pretty significant guidance from what was generated," Merritt said.
Stein was in the digital equity group while Dzikowski was in the multilingual/multicultural and/or English language learner group, as was Schinella who served as notetaker.
Recommendations from the task force will be delivered to the Board of Regents July 13.
Planning for BOCES re-entry
Back home, BOCES leaders are meeting twice a week (Wednesday mornings and all day on Thursdays) to develop plans for what re-entry/reopening will look like for staff and students, Deputy Superintendent Cora Stempel said. The areas of focus are similar to those on the state task force:
·           Teaching and learning (school age and adult learning)
·           Health and Safety
·           Business office and human resources functions
·           Buildings and infrastructure
·           Social, emotional and behavioral recovery
·           Communications
Discussions are also being held around what changes are temporary in nature and which may be permanent as well as what will happen if there's another closure next year.
While the core group of about 10 leaders meets twice a week, there are about 30 staff members involved in the planning process in some capacity, Stempel said.
The group identified three scenarios to plan for:
Nothing changes and in-school instruction resumes normally
We return to in-school but there are restrictions on social distancing and safety
We don't resume in-school lessons and everything is virtual
"Even when we know what September looks like, we don't know what November looks like," Stempel said, so the group has to plan for that as well.
Already, teams are tackling the priority items in each scenario. Stempel said their timeline is to roll out plans by mid-August. But, she said, "we expect to adhere to whatever requirements are passed by the New York State Education Department or Governor and will work out the best way to do it so that when we roll out the plan it answers as many questions as people have."