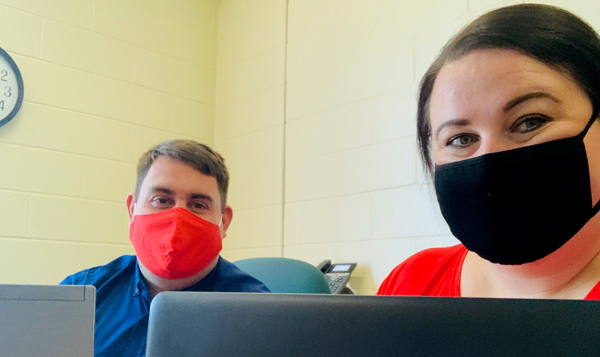 Melissa Murphy, SPC Principal and Administrative Intern, Tony DiRusso, planning for the first three days of ESY instruction.
Dutchess BOCES' Extended School Year program is going virtual this year due to the ongoing COVID-19 pandemic. It is scheduled to start Wednesday, July 8 and run through August 19.
The program has 161 students enrolled in 24 virtual classroom.  It will be hosted on Google Classroom, and students will be engaged with structured exercise activities, games, problem solving and daily community time for socialization. This ESY Program is a blended model, using a synchronous and asynchronous structure to engage and meet each student's unique learning styles and needs.  Related services and therapies will be incorporated into the lessons and in Google Meets sessions to maximize progression toward goals.
A virtual orientation about the program was held June 23rd and 24th. During the June 23rd orientation session, BOCES Board Member and Center for the Prevention of Child Abuse Community Educator, Rick Keller-Coffey trained the ESY Staff on indicators about, "Child Abuse Prevention in the Digital World."
Salt Point Center Principal Melissa Murphy and administrators throughout the county engaged in training called "Leadership in Distance Learning" which was presented by Educational Resources in early June.   The training targeted maximizing instructional impact and fostering student growth in a virtual platform.
During synchronous learning students and the teacher come together at a set time for a lesson. Students will also participate on their own schedules with reading materials, recorded lectures, assignments and assessments provided through Google Classroom; this is asynchronous learning.  The asynchronous structure allows teachers and service providers to give feedback later in the day to students, in addition to the reinforcements they receive during synchronous class time.
"Learning new ways of looking at how students learn in the virtual world has assisted the administrative team to create programming that will prevent substantial regression of skills for our students," Murphy said of the feedback. "Teachers and providers have time built-in to provide feedback and collaborate as we integrate learning ultimately, promoting growth."
Intentional and purposeful materials, known as cultivated resources, will be utilized to maximize students' goals, Murphy said. "It is important that what we are doing, with the program limitations of not having the human interaction in the physical, is thoughtful and accessible for our students."
Community-Wide Positive Behavior Intervention and Support activities will continue every Friday. Some of the scheduled activities include a group scavenger hunt and a virtual field trip.
Students can use any devices borrowed through their respective school districts for the program.  If necessary, BOCES will support students who cannot secure technology from their district.
"We want to make sure that we're integrating and supporting the process and program as best as we can," Murphy said. "I feel very lucky to have such a great ESY Team of teachers, providers and administrative colleagues."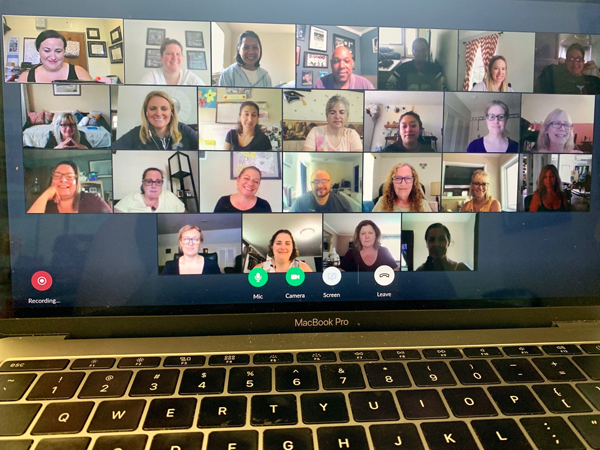 Staff for the Extended School Year program at Salt Point Center participate in a virtual orientation.