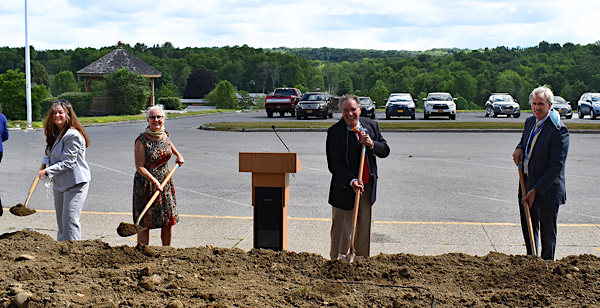 Dutchess BOCES Cabinet: Dr. Norah Merritt, Executive Director of Human Resources, Cora Stempel, Deputy Superintendent, Dr. Richard Hooley, District Superintendent, and Matt Metzger, School Business Official.
With sun shining and gold shovels gleaming, Dutchess BOCES officially broke ground on what will become the new home of the Alternative High School on BOCES Road in Poughkeepsie on July 1.
Site work began last month on the first capital improvement project for Dutchess BOCES since the Salt Point campus opened in 1957.
Superintendent Dr. Richard Hooley opened the ceremony, joined by New York State Sen. Sue Serino, Dutchess County Executive Marcus Molinaro, Board President Edward McCormick and BOCES Alternative High School Student Government President Robert Jackson.
"After almost 60 years, we're embarking on our first major capital project at Dutchess BOCES. We owe a debt of thanks to the voters who supported it, the Rotary clubs and other service groups who hosted us to speak," Hooley said.
The Dutchess BOCES cabinet and representatives from the board, project architects KGD, construction management firm Palombo Group and limited BOCES staff also attended.
"I didn't take the traditional path of education, so for me, BOCES means a lot," Serino said, adding that the community's vote spoke volumes about how it feels, too.
Molinaro, too, spoke about the importance of BOCES role in educating and preparing students for life, noting that it is not a "one size fits all" situation.
He said that one of the challenges that existed prior to the Covid-19 pandemic is that, "despite growing economic opportunities, we still have a skills gap between those that graduate and those that employ. Teaching kids and giving them the tools necessary to achieve the jobs we have and the jobs we want is important, it's very important."
In addition to a new alternative high school, the $36.8 million project will provide renovations to the Career and Technical Institute and Salt Point Center. CTI provides training in 10 different fields including agriculture, education, health, hospitality, information technology, law and public safety and auto mechanics/auto body. Salt Point Center provides special education services to students in grades K-8.
"This next step in BOCES history will help this county grow a workforce that is more dynamic, more able, more capable and certainly more connected with the jobs we hope to grow," Molinaro said.
Occupancy of the new high school building is slated for September 2021.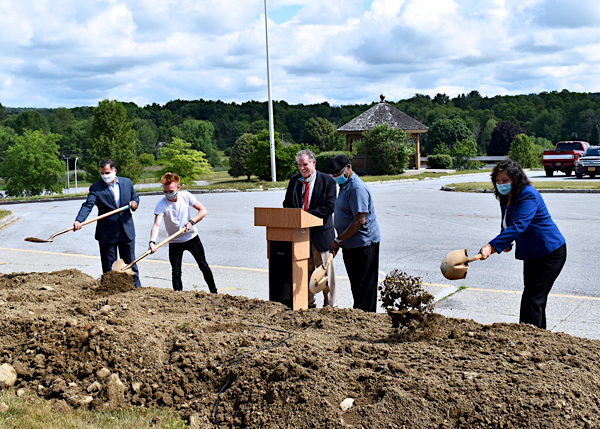 Marcus Molinaro, Dutchess County Executive, Robert Jackson, 2020 graduate Alternative High School, Dr. Richard Hooley, District Superintendent, Mr. Edward L. McCormick, President, Board of Trustees and Sue Serino, New York State Senator.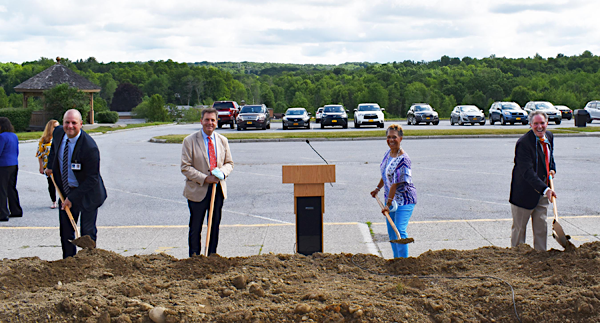 Representatives from KGD Architects, retired Assistant Superintendent for Business Services Dr. Sherre Wesley. and Dutchess BOCES District Superintendent Dr. Richard Hooley.