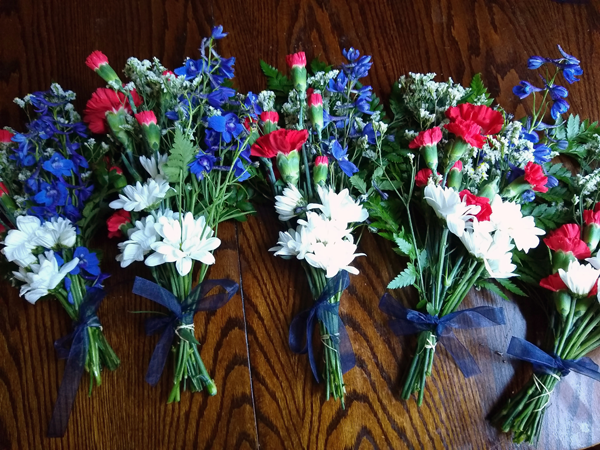 For one of their final activities of the year, students in the Careers in Animal and Plant Sciences program at Dutchess BOCES used funds from their National.FFA Organization club (formerly Future Farmers of America) to honor essential workers.
Students worked with teacher Rebecca Cossa on designing 40 bouquets of flowers for essential workers at the Lutheran Care Center on Dutchess Turnpike.  Through a survey, students chose a color theme and flower types, keeping in mind price and the principles learned in the floral design unit. A red, white and blue theme was selected by nearly a unanimous vote.
"The students did a great job at contributing to this project while still completing their other classwork assignments," said Mrs. Cossa.  "The survey enabled everyone to participate in the decision making while expressing their individual creativity and floral design knowledge."
The classes wanted to do something special to support essential workers while using skills from class and did not want to duplicate efforts done by other groups such as equipment and food donations.  Mrs. Cossa purchased full and mini red carnations, white mums and two types of flowers for the blue element, limonium and delphinium.  A ribbon completed the pretty sprays.
The health care facility was chosen because many of the seniors in the class completed their work placement assignments next door at the Hudson Valley Animal Rescue & Sanctuary (HVARS).  They students were familiar with Lutheran Care because they rode the bus to HVARS with nursing students going to clinical assignments at the health care facility each Monday and Wednesday.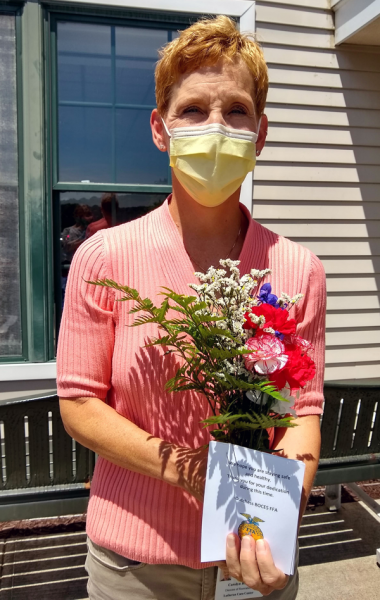 Carolyn Brazil, from the recreation department at the Lutheran Care Center, holds her bouquet.