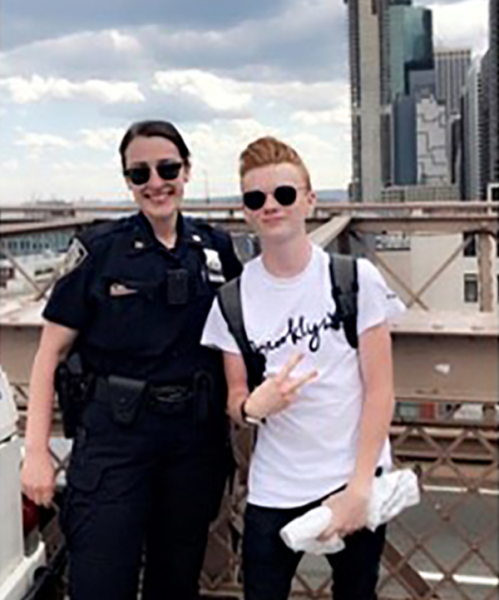 Bobby Jackson was photographed with a police officer from the NYPD's 79th precinct last summer.  Unfortunately, attempts to identify the officer were not successful.
For his final class assignment to use a photograph as inspiration for his writing, one student chose to focus upon first responders in New York City. After reading his words at the end of April, his teacher, Lisah Babb, asked to share his thoughts more widely and he agreed, saying, "I tried to make a connection with what's really going on at the moment."
Shout Out to the First Responders in the Pandemic
By: Bobby Jackson for Creative Writing at the Dutchess BOCES Alternative High School.
This is a photo of me next to a police officer from the 79th Police Precinct in Bedford Stuyvesant, Brooklyn.  This was taken the last time I was in New York City.  The reason why I chose this picture for my writing assignment is because all first responders deserve the utmost respect at this very difficult time.  The world we're living in is filled with chaos and it's very bleak.  Everyday first responders are risking their own lives to protect people, especially right now.  They're risking getting ill and then going home to their families and risking them getting sick as well.  So far, 29 NYPD police officers have died from Covid-19.  So many more are infected with the virus and that's just in NYC. 
I remember walking past this police officer and I said, "Can I take a photo with you?"  She looked shocked and said yes happily. Another thing about the NYPD is they're the most hated police officers in the country.  You can find so many videos on social media of people harassing them.  When I watch TV or see photos of nurses and doctors working non-stop it brings tears to my eyes.  I also have a brother that's an EMT in the South Bronx and he's working non-stop.
Being in New York City is like being in the center of the world.  It's basically what the world talks about, either that or L.A.  I am very blessed to live only an hour away from it.  So many people from all over the world probably save up for years to travel to NYC, while we can just pay $20 for a Metro North train ticket.  Seeing the city now though is very depressing.  You know the world is at pause when you see a photo of Time Square empty.  It's such a sad time.  There are literally people dead outside a Queen's hospital in a refrigerated truck.  When you hear stuff like this, "Huh. This can't be America."  It sounds like it's some third world country. 
Kids are missing seeing their friends at school.  I know I miss school a lot and this is coming from a kid who hardly ever went.  Now I wish that's all I went to.  It's a crazy time to be alive.  It will be one great story for the history books...definitely a great story to tell my kids and grand kids.
About the author: Bobby Jackson is from the Pine Plains Central School District.  This year, he served as the Student Council President at the Dutchess BOCES Alternative High School.  He was very involved in school events and was scheduled to compete at the Dutchess Literacy Connections Spelling Bee at Marist College before it was cancelled due to COVID-19.  Bobby will be graduating this month. "He will be greatly missed at BETA," said Mrs. Babb.  "Everyone loves Bobby.  He is a wonderful, caring young man who is always looking out for others."