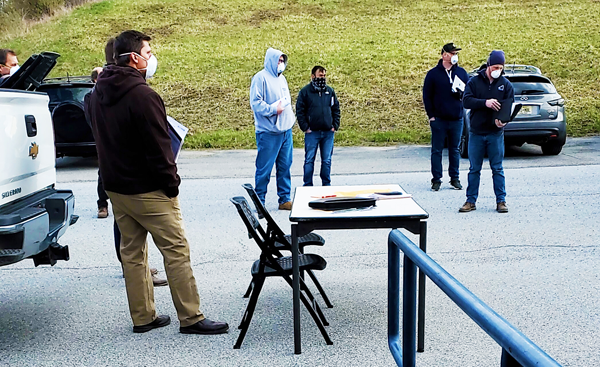 Pictured are potential bidders preparing to tour the Career and Technical Institute in April.
Aside from a few changes to process, the COVID-19 pandemic has not delayed the Dutchess BOCES capital project, which will bring all K-12 programs to the Salt Point Turnpike campus.
The Board of Trustees recently awarded contracts to six companies for the scope of the work.
●      Worth Associates, general construction: $17,654,332
●      S&O Construction Services, plumbing: $1,213,412
●      C.B. Strain & Son, Inc., HVAC:  $5,335,000
●      Upstate Electric, electrical: $2,683,340
●      Casa Builders Inc. (Friedlander Construction), sitework: $4,102,980
●      United Safety LLC, hazardous materials abatement:  $497,600
A pre-construction meeting was held Wednesday, May 20, with all the contractors to go over the game plan, review safety requirements, ensure all have performance bonds and the appropriate insurance. Another meeting is scheduled this week and a start date for the work may come out of it, School Business Official Matt Metzger said.
The $36.8 million project will create a new building for the alternative high school, currently housed in rented space on Dutchess Turnpike, and provide renovations at the Career and Technical Institute and Salt Point Center. For the second round of bids, the board eliminated renovating the facilities department and turning the space it occupies at SPC into classrooms and also dropped the preferred labor agreement.
"By doing that, it allowed us to get done a lot of things we wanted to get done and provided about $1 million for contingencies," Metzger said.
About 21 contractors from various trades did a pre-bid walk-through of the site in mid-April in preparation for submitting bids, Metzger said. During that tour, the group adhered to social distancing practices and nearly everyone wore masks.
By the April 29 deadline, a total of 34 contractors had submitted bids which were then read live on the Dutchess BOCES website.
"It came in 15 percent lower than the first round of bids and as Matt said you got everything you told voters you would deliver," Russell Davidson of KG&D Architects told the board during its May 13 meeting when the request for proposals were awarded.
Interviewed later, Davidson said a number of factors contributed to the drop, including a simplified design and the pandemic itself. "Because of the economic conditions related to the pandemic we saw a very high level of competition."
The fact that schools are closed could expedite the project.
"Without employees and students there, we can hopefully get a lot done without all the impediments we would have had if we were in session," Metzger said, adding that it should help keep the project at least on track if not, perhaps, a bit ahead of schedule.
Occupancy of the new building is slated for September 2021.