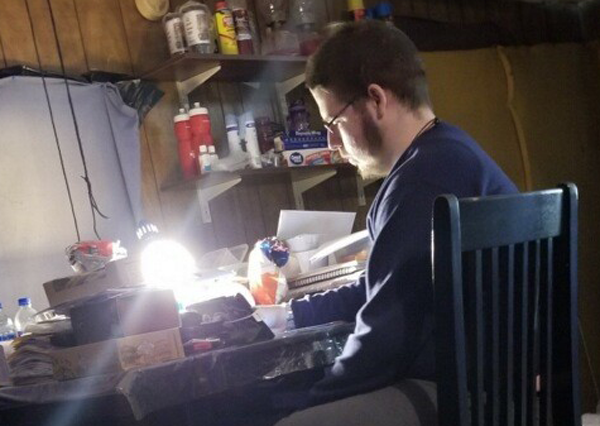 Completing assignments outside of traditional school hours benefits many students, including Austin Borowsky pictured here working on a reading assignment from the George Orwell classic, "1984."
Several Dutchess BOCES Alternative High School students are thriving in the distance learning realm, in part because work can be completed at all hours - a true benefit for teens.  Many teens are sleep deprived due to the conflict between their internal biological clocks and the schedules of society, according to the National Sleep Center.
With its reliance on technology to deliver lessons and work, the Google Classroom platform makes learning more self-guided - and allows students to work when they're most comfortable.
For some students, being in school at 8 a.m. isn't conducive to their learning and getting work done.
"Students are working at night which I found interesting," said Dion King, a consultant teacher who has been with BOCES for 17 years. "I've noticed that some students are completing work at two or three in the morning."
One of King's students was working on Algebra B between 9 and 10 p.m.
"She said she is better able to focus at that time and I told her to reach out to me," he said. "I think we all feel an obligation to respond whenever they need us."
Tenth grader Austin Borowsky is one student who likes the flexibility of distance learning.
More of a late afternoon, evening person, he has developed his own schedule.
"On Mondays I work on math, Tuesdays biology and on Wednesday a mix of subjects," he said. He also likes being able to work on several things one at a time.
Borowsky has his eye on attending the Career and Technical Institute next year to study plant and animal sciences, which serves as one of his motivators to get his work done. The other: "My mom pesters me to get it done."
Bobby Jackson also appreciates the flexibility distance learning offers.
"I get the bulk of my work done between 6 and 8 p.m. I'll rest, then I'll do work and take a break and do work throughout the night until I go to bed," Jackson said.
As for the teachers, King said, "You feel like you're on-call 24/7. We aren't doing 7:30 a.m. to 3 p.m. shifts anymore because we have to be there for them."
For these students, it appears to be working.
Tabitha Borowsky said her son Austin, "went from being behind to almost being done with 10th grade classes."  He has also started working on some 11th and 12th grade work.
"His teachers are very responsive," said Ms. Borowsky. "If we have a problem, Mrs. Santini will hop on a video chat with him and walk him through it. I can message or text any of his teachers and they are willing to help."
Jackson had a similar experience.
"This is helping me so much because I was a little behind before," he said. "With my situation, I only have history left. I had math and history at the start."
While both Jackson and Borowsky appreciate the advantages distance learning has brought, both prefer the traditional classroom.