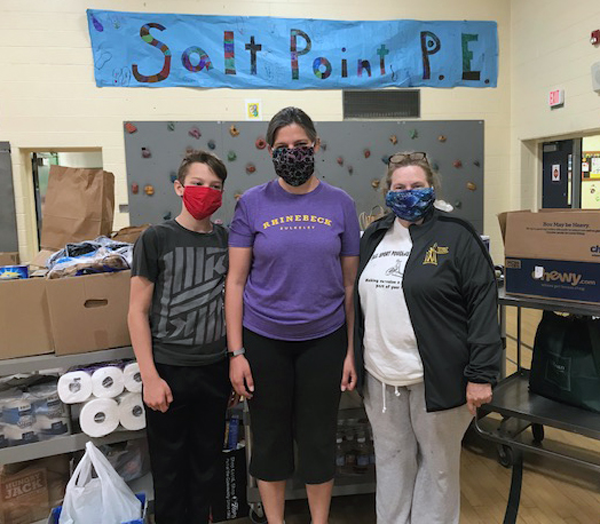 Rhinebeck teacher Deedra Kaake, center, her son Aedan, left, and Susan St. Claire (Rhinebeck Teachers Association President) dropped of food at the Salt Point Center in support of the ongoing Dutchess BOCES food/supply deliveries that began when schools closed.  More than 100 families benefit each week.
More than 100 families were delivered care packages of food and supplies Wednesday, May 20 by Dutchess BOCES volunteers.  Staff have been delivering food, cleaning supplies and more to families throughout the county since the pandemic began, starting out with donations from staff and later accepting food from others.
On Monday, the Rhinebeck Teachers Association (RTA) brought food and cash from a drive they held to support BOCES.
Deedra Kaake, a teacher and RTA building representative, organized the effort. "I saw a post about them looking for donations and BOCES has Hyde Park and Rhinebeck families," she said, adding that she is a Hyde Park resident.
"We were looking for a way to reach out and get involved," Kaake said.
The RTA reached out to Rhinebeck Central School District and got permission to hold the drive on  May 18, at the Chancellor Livingston Elementary School bus loop because of its size.
"We made it clear that we would be social distancing, we wore masks and gloves and asked them to pop their trunks and we would pull it out," Kaake said.
Through emails from the district, RTA and personal contacts, the two-hour drive brought about 30 donors.
"It was better than expected," said Kaake, who worked the drive along with her sons and fellow teachers RTA President Susan St. Claire and Isobel Usawicz. Roosevelt Cinemas donated 30 sleeves of popcorn, which were given to donors as a small thank you.
In total, the drive brought $200 in gift cards and cash plus a pickup truck and an SUV full of food to BOCES. The success of this small endeavor has the RTA contemplating holding a future drive to help local residents and food banks, said Kaake.
The BOCES effort continues and donations are accepted from 8:00 - noon on Mondays at Salt Point Center at 5 BOCES Road in Poughkeepsie. Cash donations can be made through PayPal: cstempel@gmail.com. 
"I really appreciate how many have donated and/or shared the good word on social media," said Cora Stempel, Deputy Superintendent.  "It's particularly heartwarming that we continue to receive donations from people who are not directly involved with our agency."