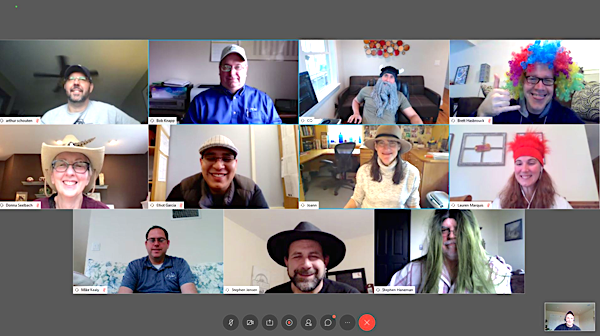 IT leaders from Dutchess County school districts meet weekly via Zoom. One recent Friday was deemed "hat" day.
Dutchess BOCES' IT department touches every school district in the county - even more so now during the COVID-19 pandemic. With only a week's notice before schools closed, the department faced a whole new set of challenges. 
When COVID-19 hit, each district was impacted in different ways because each has different technology and needs. The 14-member department was already responsible for maintaining infrastructure, hardware and software for BOCES staff and students, as well as providing the level of service requested by the 13 member districts, Mark Stein, Learning Technology Coordinator for Dutchess BOCES said. Needs escalated dramatically as schools closed.
"We needed to get everyone devices and figure out how we'd deploy them," Stein said.
With help from Deputy Superintendent Cora Stempel, the team developed a process to minimize impact, starting with the creation of a survey for staff and families to determine who needed a device and whether they had internet service. They then worked with the member districts to get at least one device to each family that needed one.
To date, BOCES has deployed 75 additional laptops to staff and students, Stein said. But it didn't end there.
The team had to update laptops previously issued to staff and handle 200 additional VPN requests from component districts and BOCES, so staff could access files on their respective networks. Then, there was making sure everyone would be able to access Google Classroom.
"As Google Classroom ramped up, our first concern was about the Google IDs for staff and students. We've had them for years, but many have never used them so we had to look at all the IDs and make sure they were functioning," he said.
And, because BOCES and most districts were using Google Classroom differently now, adjustments were needed within the environment to let people from outside Dutchess in.
"I told Cora that I feel like every day there is a question or challenge that we've not had to solve before, so in a way, we're starting from scratch," he said.
One new skill and technology being used is the live video streaming and recording of board meetings and bid openings.
"I think we did a really good job adapting what we currently have in place to meet the needs of sites," Stein said, adding that over the summer, he'll be looking at the Google Classroom environment to gear it more toward off-site use, remote work and learning.
"I want feedback from school principals to see where their challenges were," he said. "Do we need to purchase different devices? Setup accounts differently? Consider different platforms?"
And, throughout all this, regular system and infrastructure maintenance needed to be maintained.
"Every team member stepped up," he said.
Techs are doing infrastructure work from home and go to the office periodically to change tapes so data remains intact and secure. Trouble tickets are being addressed from their homes. Receiving clerk Mary Huber is at the office every day to ensure that deliveries can be accepted because BOCES orders hardware, software and parts for member districts, too.
"The level of collaboration and people stepping up on every level has been great," Stein said, adding that he and district tech directors have a weekly Friday meeting to talk about new challenges, how they've resolved previous challenges and to share their knowledge to help.