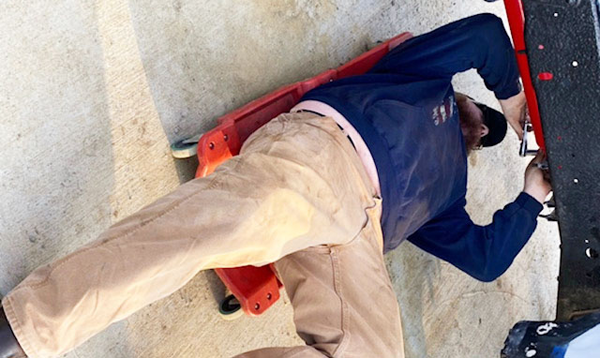 At the Career and Technical Institute, hands on equals minds on. Students benefit from working side-by-side with professionals who teach them the skills of their trade.
How does that happen when teachers and students are separated?
"In an automotive class it was a little tricky to figure out how I was going to be able to have the students keep working on their work-based learning hours," said Jason Imperiale, instructor of automotive technology. "After some thinking, I came up with the idea of creating a lesson in our Google Classroom and called it Work-Based Learning."
The idea was for students to submit any real work they are doing from home on Google, almost like a drop box, he said.  "What I have been having the students do is to take pictures of the work some before they start, some as they are working through the project, and then some once the project is complete," said Imperiale.
Students are then required to write up the assignment just as they would at school, except they submit it on Google.  The information includes the year, make and model of the vehicle, and the work performed.  Then, the students must detail each step taken during the work on the vehicle.
"So far, I have had nine submissions in just a little over two weeks," said Imperiale.  On Wednesdays, the entire class meets using Google Classroom to talk about the jobs the students did as a class.
"It has been providing nice content for the class," he said. "The students are enjoying it and they are doing the best they can as to not fall behind on hours since we are not in school where it is much easier for me to provide them with the opportunities."
In the Auto Body Program, another technology tool is being used to help keep students learning at home. 
Teacher Jarret Babcock has been busy providing auto body students online tours of his shop, paint booth, and Envirobase System via his YouTube channel. He is taking time to review tools, equipment, and safety remotely. "This provides students an opportunity to learn, to comment, to subscribe to real world practices, and to review what we discuss in class," said Babcock.
No doubt, CTI students continue to learn important concepts, including the importance of resiliency.