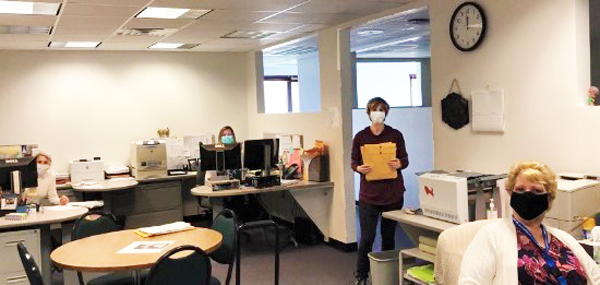 The COVID-19 crisis hasn't stopped Dutchess BOCES employees from getting paid or the required paycheck deductions from being made.
That's because Payroll Supervisor Lois Schwarze and her team: Cindy Cameron, Irma Puig and Lindsay Decker are deemed "essential employees." 
They have been working from home and convening at the administration building at least every two weeks to ensure people get paid. Of course, while at work, they are wearing masks and practicing social distancing.
"We are extremely fortunate to have a payroll department that leaves no doubt that each and every payroll will be completed accurately and on time," said Mike Skerritt, assistant business manager.
For the April 10 payroll, about 450 checks were processed, Schwarze said. Of those, about 34 required physical checks which had to be mailed.
"Someone from human resources put postage on them as well as the deduction checks and I brought them to the Post Office on the correct day," she said. 
"By working in collaboration with the HR team, other members of the Business Office, and departments throughout the organization, Payroll consistently works long hours to get the job done," said Skerritt.
But it's not just about payroll. Team members are also answering questions about benefits, handling retiree health insurance, ensuring compliance with all of the new state and federal laws, and working on reports for former and current employees who want to purchase previous time worked from the retirement system.
"In the midst of it all, we're answering the questions we are getting that we never had before," Schwarze said - referencing questions about holidays, vacation and personal time specifically related to the pandemic situation.
Each person has their own responsibilities, Schwarze said, "but we work as a team. We constantly have each other's back."
Schwarze also aids in preparing data for audits, confirming information for loans from employees' 403(b) accounts with Omni, and working on implementing the new retirement system software. Dutchess BOCES was chosen as a pioneer for that new program.
Skerritt praised the team's dedication, professionalism, and care for their fellow colleagues.  "These unprecedented times have offered yet another opportunity for the Payroll team to step up and meet the challenges placed before them," said Skerritt.