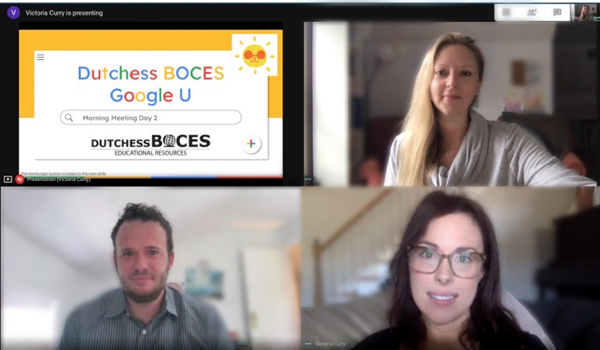 When the Poughkeepsie City School District's call for help came in, Dutchess BOCES answered and jumped right in to train teachers and administrators to use Google Classroom.
In the midst of the COVID-19 pandemic, many districts had to develop a plan quickly to meet state mandates and to get staff up to speed on new technology for remote learning.
The three-person training team from BOCES - Data Coordinator and Chief Information Officer Victoria Curry, Director of the Mid-Hudson Regional Partnership Center Ruairi Gribbon, and Model Schools Staff Specialist Amy Carr - had three days to put together a program before rolling it out to hundreds of staff members in Poughkeepsie.
"It was a very extreme turnaround, but we were happy to do it," Gribbon said.
While developing the course, the team kept the end-users, the teachers, in mind, said Curry.  "We also placed a large emphasis on ENL students, to help teachers who teach students who speak different languages," she added.
The program was designed so that by its end on April 9 teachers and administrators would:
●      Be able to create a Google Classroom
●      Have experience with all Google apps for education
●      Be able to get students/parents using Google Classroom
●      Have customized content for different grade levels
"Ultimately, it's about kids and their experience," said Carr. "The end goal, in this time, is to be able to give every student the ability to continue their learning and keep a sense of community in their classroom and school."
About a week before school closures began, BOCES began offering introductory training in Zoom, Google Classroom, and other technology tools to all 13 component districts plus Newburgh - so they had some course work to build upon.
Poughkeepsie's two-week training was more in-depth and included an overview of all the apps and Google training modules so that teachers would be prepared to take the Level I exam for Google Classroom certification after completing the training.
"We began by modeling ourselves after the Google course. In addition to giving a lot of opportunity for the teachers if they choose to take exam, it introduces the users to so many things to help develop a more versatile classroom," said Curry.  "Google Classroom is a filter for all things in the drive and when you really learn how to manipulate all the different apps, that's when your classroom really begins to sing." 
Front loading the training full of apps to make Google come to life was important, said Curry. "If you have all the tools, you can build the classroom you want and customize it to your students," she said. "You wouldn't build a good house with just a hammer, you need the toolbox."
Along the way, the trainers were learning, too, as they had to conduct the training in an entirely virtual space.
"It was different to us too," Gribbon said. "The learning process is easier when you're there in person and answering questions.  Here, we were using video and we'd have to watch ourselves."
Scheduling of the training was key and the sessions were all recorded so teachers could go back to them whenever they wanted.
"Every other day we were with the teachers and on the off day they could do work which was directly applicable to their classroom," said Carr. "What they produced in training was for their actual use. In between, we were working with the administrators and using the assignments the teachers produced so we could change our training based on what we were seeing."
On "off" days, the trainers would monitor live what teachers were developing and offer input and assistance, said Curry. "It was pretty cool.  This kind of training had never been done before by BOCES and to be able to reach so many people and at the end they were all using Google Classroom; it was great."
The entire Poughkeepsie City School District communicated simultaneously with each other through Google Classroom stream and often helped each other with suggestions and tips.
"They were reaching out to instructors and to each other – we were in each other's houses," Carr said, adding that at times participants would see each other's children or pets in the video. "We're all in this together. It was more than what I thought it would be."
Poughkeepsie Superintendent Dr. Eric J. Rosser said that once school is back in session, the training, will give the district the opportunity to deliver instruction in different ways.
"We are very appreciative of Dutchess BOCES for stepping in to aid us and quickly train Poughkeepsie City School District teachers in Google Classroom," Rosser said. "By our teachers having this training, we as a district, are able to strengthen delivery of instruction for students during this closure."
The BOCES team even earned a moniker from Poughkeepsie due to the experience: #TeamAwesome.
"The professional collaboration has been phenomenal," said Curry. "I was happy to be included. This has made BOCES and Poughkeepsie stronger and strengthened me as a facilitator."