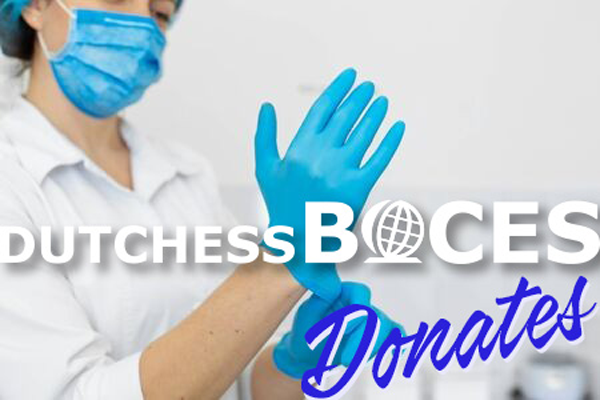 The Dutchess BOCES Career and Technical Institute donated thousands of gloves and masks from the nursing and nursing assistant programs to Dutchess County to help in the battle against COVID-19.
After CTI Principal Mitchell Shron and Coordinator of Health Occupations Susan Moraca consulted about the inventory via phone, Moraca picked up the supplies that were on hand for teaching the LPN and CNA students from CTI.
She, and her husband Dave, then dropped off 20 cases of gloves, four boxes of N95 masks and nine boxes of regular masks with ties or ear loops to Bill Beale, the Dutchess County Emergency Management Coordinator.
"They opened the security gate and had me back up to a vehicle bay," said Moraca.  "Bill Beale was there to accept the supplies.  We all practiced social distancing." Beale also serves on the CTI Main Advisory Committee.
Every little bit helps our health care providers who are short on supplies as this evolves, said Moraca.
"Every bit does help," said Dana Smith, Commissioner of the Dutchess County Department of Emergency Response.  "The amounts you donated will absolutely help protect health care workers and first responders. We are tracking everything and when we get through this, we will do everything we can to replace the donations."