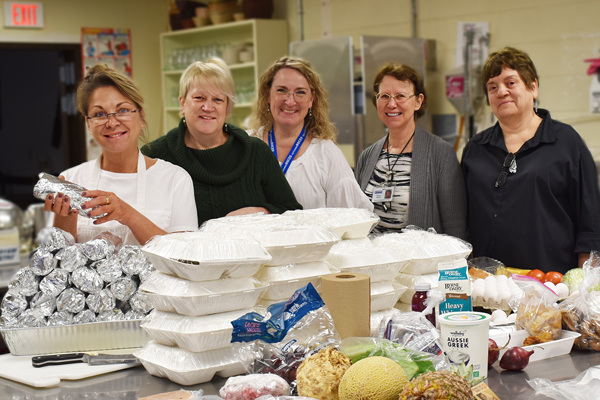 Staff throughout Dutchess BOCES spent Monday, March 16 finalizing preparations for the unprecedented closing of all schools in New York.  While academics were the focus, the basic student need of having enough food to eat was also addressed.
In addition to delivering the student lessons to homes, staff was sure to use all of the Agency's food resources to assist students and families.  Sadly, for some students, free school breakfast and free school lunch make up the majority of the food they consume each day.
At the Salt Point Center, students receive free breakfast and lunch through a grant from the U.S. Department of Agriculture.  Being out of school, albeit for the health and safety of all students and staff, will cause some food insecure families a financial burden. 
SPC staff, under the direction of Chef Mark Graffam, prepared and delivered 25 food boxes of produce, milk, cereal and healthy snacks for students in need to help during this extended break from school.
"Being out of school is already stressful enough for our students and families," said SPC Principal Melissa Murphy.  "Helping to get nutrition into homes is a small way we can make things easier during this difficult time."
At the Career and Technical Institute, Chef Instructors Darcy Sala and Dan Tierney led the charge to transform groceries intended for teaching culinary students into healthy meals for families in need.  At the end of the day, 37 turkey wraps with cheese, lettuce and tomato and 25 dinners of roasted chicken, potatoes and vegetables were delivered to student homes by BOCES volunteers.  The perishable items remaining were donated to a local food pantry.
Deputy Superintendent Cora Stempel commented, "Our staff came together immediately, offering to prepare food and to personally deliver it to the homes of our families in need. I was incredibly impressed by the speed at which all of this happened and was deeply touched by the commitment of our staff to caring for others in this challenging time."