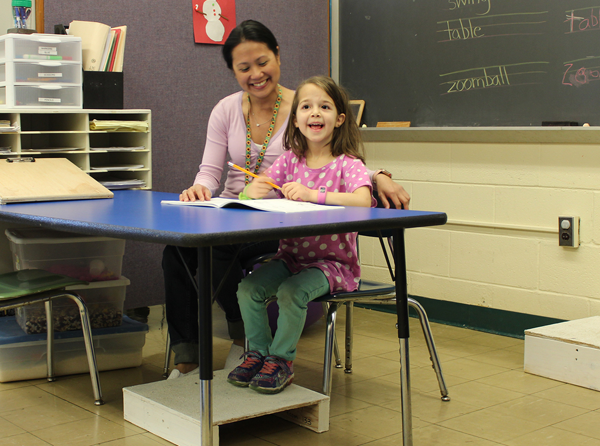 Adea Daroy, occupational therapist, works with Jamie, who is using one of the stools.
Sometimes, little things mean so much.
Imagine being a young student trying to concentrate on your work. You want to do your best, but your feet do not reach the floor and it is fun and easy to be distracted by swinging your legs back and forth.
Observant and caring Dutchess BOCES staff recognized the challenge and with the help of the Career and Technical Institute's Construction Trades program, they solved the problem.
"Mr. Skean's class made us eight step stools for our elementary school kids," said Kelley Carr, a BOCES physical therapist.  "The step stools are used to help the feet of our smaller children approximate the ground when they are sitting in their classroom chairs. This is important so that the children are more stable when they are sitting which helps them to focus and have good support to engage in tabletop activities."
One way students in the CTI Construction Trades program get hands-on experience is by asking BOCES staff for small project ideas.  The result benefits the CTI students by giving them building and customer relations skills and it benefits BOCES staff by solving problems or augmenting programs.
Another recent project was adapting a desk for a student who uses a wheel chair.  The bottom shelf prevented her, a student in the Pegasus Program, from comfortably positioning herself at the desk.  Construction Trades students cut out a curve in the shelf to allow easy access while maintaining the integrity of the desk.
"We are very grateful to work with such a willing teacher and group of students," said Carr.  "It is really nice to work together as a team to help the younger students in our program. This has been a wonderful collaboration and it has been such a meaningful experience for all of us."
As an additional benefit, the stools are used in other ways, including in a course designed to help students build dynamic balance and lower extremity strengthening.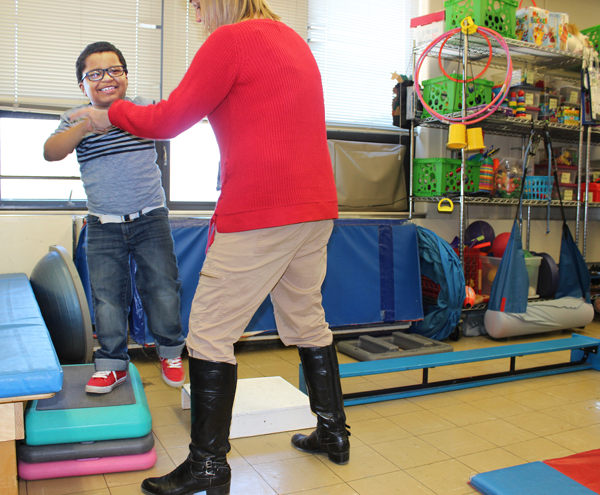 Tristen works with physical therapist Stephanie McElroy.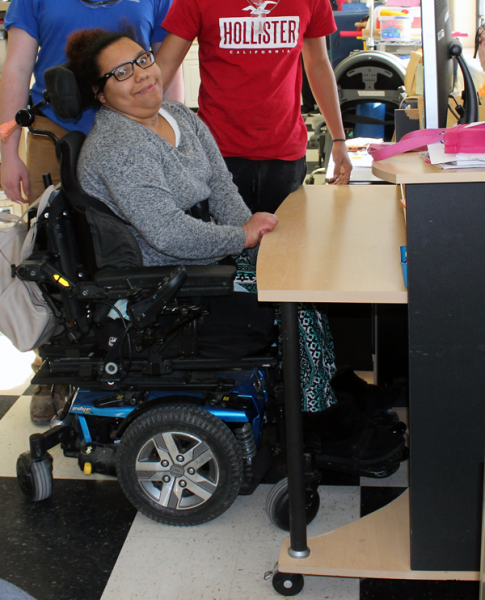 Trinity is happy with the alteration to the bottom of her desk.