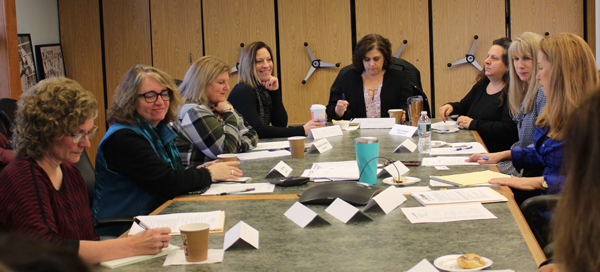 Clerks from school districts across Dutchess County met at Dutchess BOCES on January 15th to discuss school board governance, including issues related to the May election of board members and budget vote.
Many local school districts typically use county Board of Elections voting equipment during their annual budget vote, however this year that will not be permitted. Primary votes being held in the Spring require voting machines be sequestered for several weeks in event of recount.  A New York State law passed a few years ago, will not allow the districts to return to using the older lever-style machines which are available.
Clerks each shared their concerns and ideas, and then explored a number of possible ways to facilitate the voting and tabulation of results. Using existing software and scanners purchased for test grading was one option.  Another possibility was a hand-count of all the ballots after the polls close. Several clerks are working on creating their own custom ballots and tabulation sheets.
Hand-counting ballots requires several procedures and safeguards to ensure the integrity of the results. Many districts may find poll workers would need to stay additional hours to complete the count. Important issues such as chain of custody of the ballots when a district has multiple polling sites could be solved by using locked ballot boxes.
Dutchess BOCES Clerk Nancy Melilli described what procedures BOCES put in place last December when the entire county was polled on a proposed capital project, including the use of locked boxes built by students at the Career and Technical Institute. The project was approved by 84 percent.
"The Dutchess County district clerks are an exceptionally supportive group," said Melilli.  "They are always eager to collaborate and share their knowledge, best practices and resources."
While the session was a good venue to examine possible solutions, more research is needed before plans are finalized. The clerks compiled a list of questions which will be discussed with an attorney at a future meeting.  The budget vote/candidate election will be held on Tuesday, May 19.
The District Clerk meetings are held quarterly.  Frequently discussed topics include policies, Freedom of Information Law requests, record retention, superintendent hearings, and reorganization meetings.