CTI Students Help Facilities Division Build Greenhouse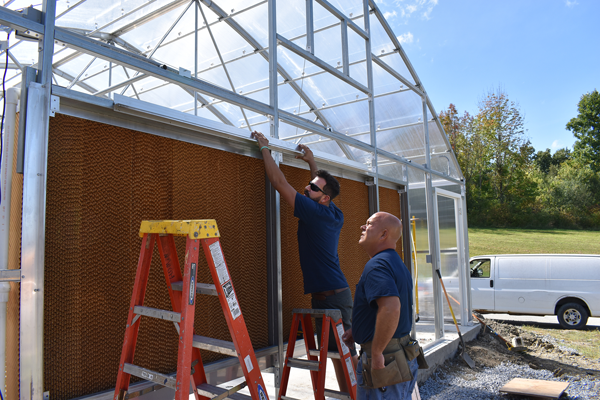 Come spring, students in the Dutchess BOCES Career and Technical Institute's agriculture program will be able to grow plants, flowers, vegetables, and fruit year-round.
This opens up a world of new opportunities and experiences to the students, says teacher Rebecca Cossa.
"Now, we only grow on a very small scale with a lot of simulation or samples of activity," Cossa said. "We're not set up to produce – just to get a sense of what it looks like, how it acts."
But that will change once the greenhouse being built outside Cossa's classroom opens.
Funded by a $35,000 federal grant from the Carl D. Perkins Career and Technical Education Act, the greenhouse is a necessary and welcome addition to the campus.
"Once we had created the Agricultural Sciences curriculum, we knew we needed to be able to grow year-round," Principal Mitchell Shron said. They began looking at grant options to help fund the project.
Once money was secured, BOCES bought a kit containing all the necessary components. Members of the Facilities and Operations Division stepped up, incorporated the project into their workload, and built the greenhouse from the ground up. Work began in September 2018, according to Cole Bender, Director of F & O.  A ribbon cutting is being planned for spring.
The 1,500-square-foot greenhouse required a concrete slab, which afforded an opportunity to bring some of the construction trade students in to work on the project.
"They helped with the concrete form work for the foundation and we discussed with them how to lay out a building," Bender said.
Students are excited the prospect of being able to have a greenhouse.
Kiara Hernandez, a senior, is working on a project that involves measuring the reaction of tomato plants to capsaicin – often found in chili peppers.
They want to know if application of capsaicin will make the tomatoes spicy or kill them.
"If we had a greenhouse, we wouldn't have to buy certain grow lights or timers. We wouldn't have to change the environment because we would have a greenhouse with the perfect environment for tomato growth," she said.
Senior Alton White, who has worked in commercial greenhouses, said, "You can't grow plants in a dark classroom. A greenhouse lets you get out and do what you went to school to learn." He's looking forward to being able to grow organic food to feed to rabbits to see how they respond.
Cossa said the greenhouse will open up many possibilities. From being able to take field trips to farms and then implement what they learned in the greenhouse, to showing students all the elements of what it's really like to have job in agriculture.
"The greenhouse will be our lab where they really learn the systems and grow plants, not just when it's warm," she said, adding that students will learn about heating, cooling, water, and all the technical and mechanical aspects of growing.
Cossa envisions a program in which students can incorporate business skills such as planning and marketing into their experience with growing crops, possibly by starting out growing poinsettias during the year and then selling them during the holidays.