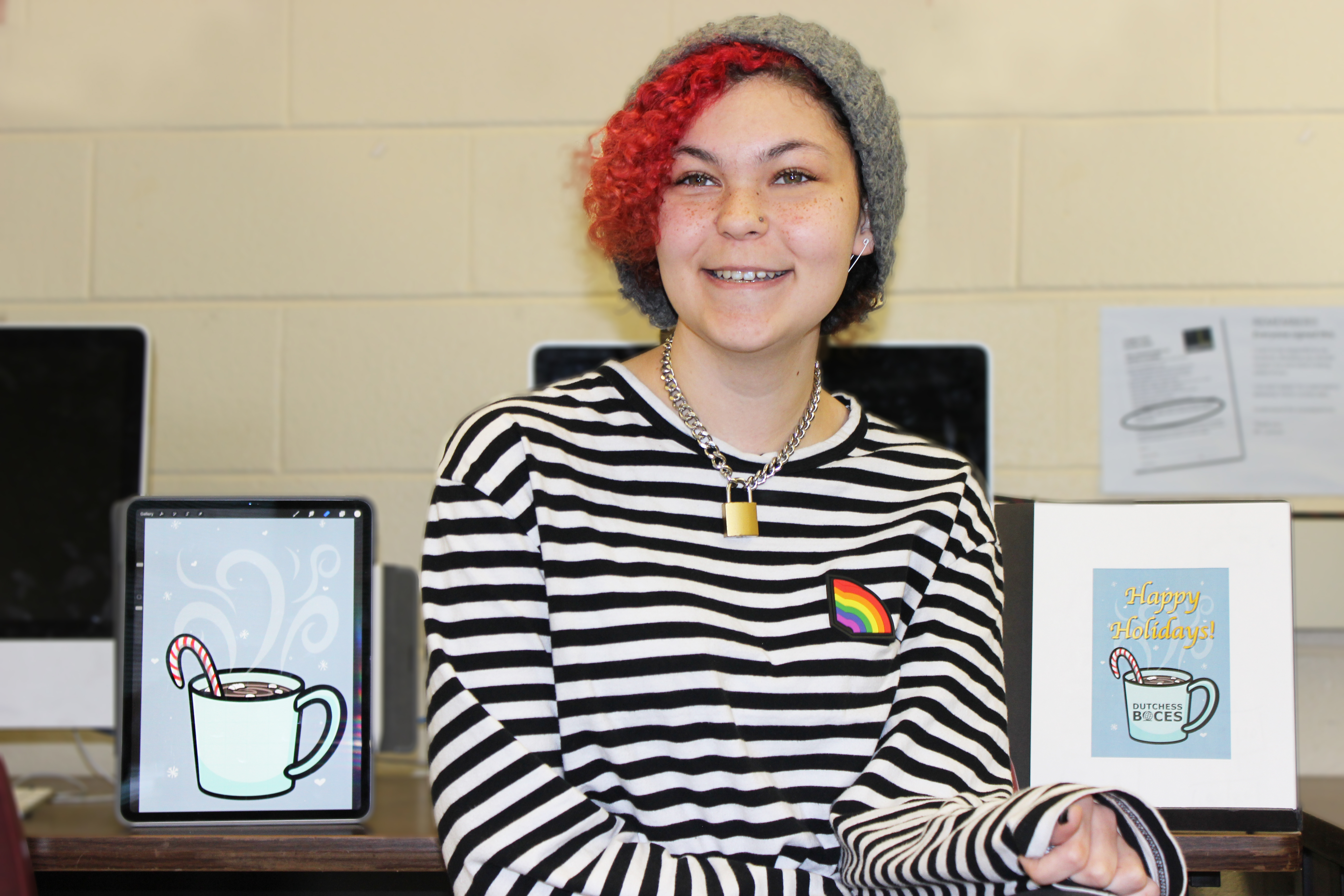 Designing a holiday card without referencing a particular religion, while still evoking the spirit of this time of the year, is not an easy assignment. However, that is exactly what Stephen Lawson's graphic arts class at Dutchess BOCES Career and Technical Institute was tasked with.
The client: Dutchess BOCES. The idea is for students to use problem-based learning and to start at square one; it's entirely like a job.
District Superintendent Richard Hooley wants BOCES programs to be part of the community. One small way he thought of was to 'hire' the students to design the holiday card.  It is sent to every BOCES superintendent in New York, every school principal and superintendent in Dutchess County, and every school district in Ulster, Sullivan and Orange counties, about 700 in all.
"Typically, they give us the scope of what they're looking for – an all-encompassing spirit of the season. They want it to have the feel, but not be geared to a religion," said Lawson.  This year, the class had a week to complete the project.
Poughkeepsie High School senior Belladona "Billie" Rodriguez's card was chosen from the student submissions this year.
"I had no clue what I wanted to do at first," she said. "I tried different iterations with snowflakes, an evergreen tree. By the time I went home, I still wasn't sure what I was doing."  Inspiration struck as she thought about the season and her life.
"One of my favorite things to do is to get cocoa with my family, so I ended up sketching mugs and came up with this," said Rodriguez.  She sketched out thumbnails on paper before turning to her iPad for the actual design and text. Once the sketches were complete, it took about two hours to complete the design.
"I wanted it to look elegant but distinguished and cartoony to fit the theme," she said, explaining the different fonts she considered before settling on her final choice. Rodriguez said she learned lessons because the project was treated as a job.
"While we have deadlines, they're more lenient," she said.  "Here, it was more stringent and it was a little stressful. I learned time management and how to work under pressure."
According to Lawson, throughout the process, the class does an open critique of each students' work to offer suggestions and improvements. He added the critiques and presentations help to strengthen the students' ability to work with clients.  "It develops their confidence in talking about their work in a way that is deeper than, 'I did it because I liked it,' " he said.
Rodriguez, who is in her second year of the program, said designing the card was a good opportunity to learn.
"If you look at her picture, it's so simple, yet it prominently displays who we are with our logo," said Hooley. "It's beautiful in its simplicity, but the detail is cool. You've got steam coming up, marshmallows in the cocoa, and snowflakes - it gives you that warm feeling."