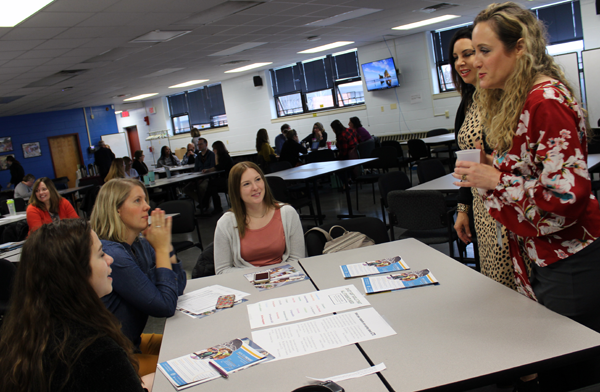 Counselors from schools across the county visited Dutchess BOCES November 25 to learn more about offerings at the Career and Technical Institute and the Alternative High School.
Mitchell Shron, CTI principal, welcomed the attendees and thanked them for taking the time to visit.  "No student comes to CTI without you," he said.  "Through your recommendation they come to CTI and we work to prepare them to be ready for the challenge of what is next for them after graduation whether it be college, career, a mix of the two or the military."
Kirstin Litwin and Megan Amendola, counselors at CTI, planned and hosted the event.  Guest speaker Gully Sanford spoke about the county initiative "Path to Promise," which is a collaboration of community stakeholders and agencies to improve opportunities and outcomes for Dutchess County youth.
Shron and Courteney Heller, a school counselor at the Alternative High School, spoke about the offerings and supports at each school.  A showcase of some of the programming at CTI included the nursing, graphic arts, and animal/plant science programs.
Culinary Arts students had the opportunity for hands-on work as they prepared the refreshments for the meeting.  They also served a delicious spread of coffee, scones, quiche, muffins and apple cider.