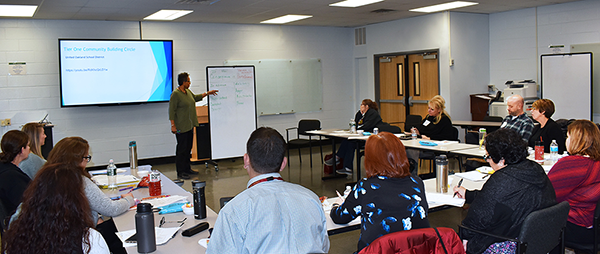 Ramapo for Children has been conducting training to improve schools' culture for decades in New York City and now they are bringing that knowledge to other communities. Dutchess County school districts can benefit from this through a program offered by Dutchess BOCES.
"Attending these sessions will help districts implement a comprehensive social/emotional learning, multi-tiered system of support," said Jenny Schinella, Director of Educational Resources for Dutchess BOCES.
A school's culture and climate has a direct impact on how students learn and behave.  Students and staff need to build relationships, have a voice, have a means to address grievances, and have additional supports as needed to respond to a variety of needs.
The Ramapo model is based upon the belief that all young people can be successful, but three things typically stand in the way: unmet needs, a lack of skills, or social inequities, said Lisa Tazartes, Senior Partnership Officer at Ramapo for Children.  How adults surrounding the children help address those areas help determine the child's level of success.
"Participants will come out with whole-school thoughts, conflict strategies, and individual strategies. We hope when they leave training there will be some things they can use immediately and then build action plans," said Tazartes.
For example, in the "Restorative Practices" session, participants will learn to think about insuring that relationships are a priority in the school.  "They will learn how to develop strategies for dealing with conflict in ways that restore relationships between all stakeholders," said Tazartes, adding that accountability is also discussed.
The BOCES series was designed by Ramapo and Deputy Superintendent Cora Stempel over the summer in order to meet the current needs of Dutchess BOCES and its component districts.
For more information, contact Kip Newman at kip.newman@dcboces.org or at 486-4840, extension 4512.
Upcoming Sessions
Dec. 10: "Protocols for Adapting to Individual Needs" introduces Ramapo's Behavior Identification and Planning Tool to participants to help them identify specific and targeted strategies to address challenging behaviors.